Perhaps it's delusions of grandeur, but I see a hint of the Jaguar XF in the roofline and tail of the 2011 Kia Optima. This week's Optima Hybrid tester doesn't perform like the British cat, but it does use less fuel and can be acquired for less a small fortune.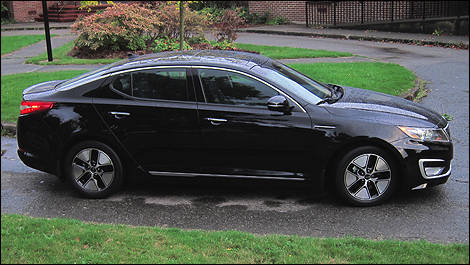 The Optima Hybrid packs plenty of oomph to back up its more dynamic appearance and sportier driving experience. (Photo: Rob Rothwell/Auto123.com)
Optima has the "looks"
I doubt there is a better looking, low- to medium-cost hybrid sedan in today's market. In hybrid format or in conventional state, the 2011 Kia Optima exhibits award-winning flair and poise. The vehicle is well proportioned and sufficiently dramatic in its design language to incite second glances and long stares as observers question whether it's something expensive or humble.
Upon climbing aboard my tester, I was struck by how expansive the cabin felt. I think the broad, flat architecture of the dashboard contributed to the sense of space and openness. Of course, my tester's panoramic roof helped as well. It allowed light to flood the cabin, eliminating that encapsulated feeling that can accompany poorly lit interiors.
The panoramic roof along with smart key technology, Microsoft UVO infotainment and navigation, heated/ventilated front seats and heated rear seats are all part of the $4,900 Premium Technology Package that inflates the Optima Hybrid's price tag to the mid $30K range. Not bad for the amount of content and technology that this vehicle bears.
Much of that technology is found beneath the hood.
Kia shares hybrid technology with Hyundai
Although the two cars look worlds apart, the Kia Optima Hybrid and the
Hyundai Sonata Hybrid
are essentially identical beneath their metal skins. They each rely upon a 2.4L 4-cylinder gas engine paired with an electric motor and a lithium-polymer battery pack to provide propulsion.
Total output for the hybrid powerplant is 206 hp and 195 lb-ft of torque. The power partnership flows through a 6-speed automatic transmission en-route to the Optima's front wheels. As with other modern hybrid vehicles, such as the
Ford Fusion
and
Toyota Camry
, the Optima Hybrid can operate on a combination of gas and electric power or simply on electric propulsion.
Kia claims that the Optima Hybrid will launch from a stop in its EV (electric-only) mode, and can accelerate and maintain 50 km/h in EV depending on driving conditions and desired acceleration. This wasn't really my experience in typical urban driving scenarios.
Yes, the car launches from a dead stop in EV mode, but the gas engine fired up quite soon afterwards despite my feathery touch on the throttle. I had more success at driving the Ford Fusion Hybrid I recently tested using only battery power.
And this brings me to time spent behind the wheel.
It rely on a 2.4L 4-cylinder gas engine paired with an electric motor and a lithium-polymer battery pack to provide propulsion.(Photo: Rob Rothwell/Auto123.com)