What used to be flaunted as Ford's most luxurious brand, Lincoln now seems to have lost its way ever since the American company went berserk and purchased Volvo, Land Rover, Jaguar, and Aston Martin over a decade ago. However, now that Ford has unloaded all those brands from their portfolio, Lincoln has once again become the company's crown jewel.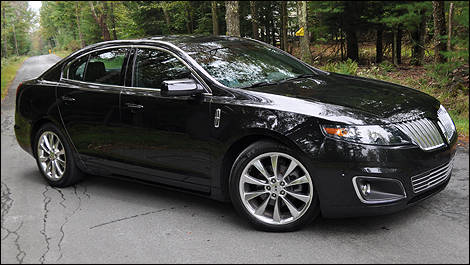 The MKS is elegant, but doesn't stand out in the crowd of midsize luxury sedans. (Photo: Mathieu St-Pierre/Auto123.com)
But what exactly is "today's" Lincoln? Entry-level luxury? Premium luxury? Taking a glance at their product lineup – including the 2011 Lincoln MKS – reveals several similarities with Ford division models.
One thing's for sure, Lincolns have finally shed their reputation as floppy, cushy lux-o-barges with the recent demise of the Town Car. Yet, is that enough for Lexus and Mercedes buyers to consider Lincoln as an alternative in their car-shopping process? Maybe, maybe not. Then again, the same could be said for Cadillac.
Undistinguished styling
The MKS, now the biggest of Lincoln's sedan lineup, has its work cut out for it. Despite its elegant, understated styling, it fails to stand out in the luxury sedan crowd. Don't get me wrong; I personally find the MKS attractive, and it has the ability to slip by the local constabulary without getting their attention. For the most part, though, if you're in the market for a $50,000+ luxury car, you probably want people to notice it.
With the top-shelf
EcoBoost
AWD trim on the Lincoln MKS, you get standard 19" alloy wheels. If you choose the $3,500 EcoBoost Appearance Package, however, you upgrade to polished 20-inchers, as well as some aerodynamic add-ons, darkened headlight clusters and a dark painted grille. Oh, and the MKS badges get a red-painted "S."
No-risk cockpit
Like the car's sheet metal, the dash and instrument panel displays elegant simplicity without really alluding to the sensation that you're getting what you've paid for. The driver's array of gauges is old-school classy, while the centre stack looks somewhat bare with its spread out button layout. It's as if Lincoln wanted to modernize itself without leaving their long-time customers stranded.
The seats, on the other hand, are oh-so comfortable. The front chairs seem capable of supporting any type of human being and, standard in every MKS, are both heated and ventilated. The
SYNC
multimedia is also standard, which is good, and there is still no sign of the
MyFord Touch system
in the MKS, which is also arguably good. You can also get a 600-Watt, 14-speaker, THX II 5.1-channel sound system with navigation and a backup camera.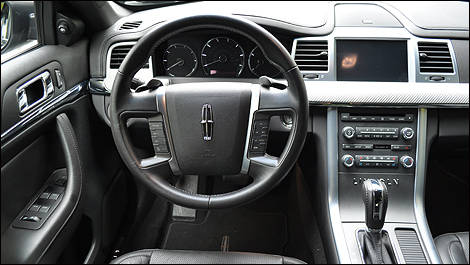 The dash and instrument panel displays elegant simplicity without really alluding to the sensation that you're getting what you've paid for. (Photo: Mathieu St-Pierre/Auto123.com)