The MKX's job is to bring Lincoln's brand of American luxury and technology into the same premium crossover SUV segment that's occupied by Mercedes, BMW and Acura. And Lexus. Oh, and Infiniti and Cadillac and Audi. And Buick. And Porsche, and Volkswagen and GMC. Oh and uh, Volvo, too. Oh yea, and Jeep, of course.
Come to think of it, everyone sells a machine like the
MKX
. Premium crossovers are big business after all - and most of them are sort of the same.
Selecting a premium crossover can be daunting indeed. The majority have a three-point-something-litre V6 with about 300 ponies, 2 or 3 seating rows, some form of AWD, a motorized tailgate, a generous cargo hold, a panoramic sunroof and plenty of chrome.
A few things help set the MKX apart, though.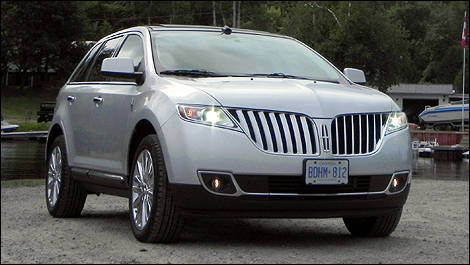 Even decked out at around $54,000, the tested MKX came in for some $15,000 less than a comparable BMW X5. (Photo: Justin Pritchard/Auto123.com)
Stand-out looks outside and (especially) on board
One is the styling. MKX is proudly American, and shows off a bold and unique styling direction for the brand. It's daring and different, and that's a good thing for most.
Designers created a body that's detailed, chunky, sleek, muscular and blocky all at once. There's a great-looking rear end, big dual exhausts and gorgeous lights in front and back. The grille is unique too. Most love it, but some say it looks like the plankton strainer in a beluga whale's mouth.
MKX's interior helps set it apart, too. It doesn't quite match the German stuff for a feeling of rock-solid build quality, but relative to its price range, things on board feel pretty darn good.
Chrome, metal and leather line everything, switches and controls are all modern and upscale, and no issues were noted with entry, exit or overall room. Nice color scheme, too. It all looks very high tech and sophisticated, but without the millions of buttons and consoles you'll find in similar machines from across the pond.
There's plenty of at-hand storage up front, as well as proper cupholders and piles of room for four adults and their stuff. In back, there's room for your gear, and the motorized rear seats fold away at the touch of a button if you've got more cargo than passengers coming for the ride.