Are you looking to spend less on fuel with little sacrifice in performance and refinement? Hybrids are an alternative, but are you willing to spend the extra dough for the technology, not knowing how it will perform years from now? The answer really stinks.
Um, I'm talking about diesel.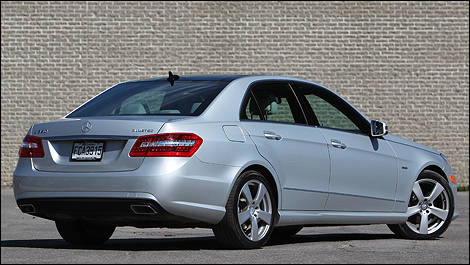 The E350 BlueTEC is smooth, comfortable, refined and comes with that all-important luxury-brand crest. (Photo: Philippe Champoux/Auto123.com)
One will argue that today's turbodiesel powerplants are technologically advanced as well, like the one in this E350 BlueTEC sedan. Using a scentless and non-toxic additive called AdBlue which is sprayed into the exhaust flow and reduces nitrous oxide, this system increases complexity and cost, but not as much as a hybrid gas-electric propulsion setup.
As the reason behind opting for a diesel engine amounts to an all-important number, let's not waste time here: we're recording a fuel economy average of 7.9 L/100 km. That's a Toyota Corolla-grade consumption rate, but we're driving a mid-size Mercedes luxury sedan.
Ok, what about that AdBlue stuff? Does it work the same as that 2000 Flushes toilet bowl cleaner clip-on thingie? Not quite. The AdBlue is stored in its own tank and is managed by the dealer during regular service maintenance stops. No need for the customer to touch it.
Power comes from a 24-valve, 3.0-litre V6 that cranks out 210 horses at 3,400 rpm and 400 pound-feet of torque that peaks from 1,600 to 2,400 rpm. It's connected to a 7-speed automatic with paddle shifters. This ain't no high-revving screamer of an engine, and it's better that way. The turbodiesel mill rarely rises above 2,000 rpm under normal driving, and at 100 km/h, it spins at 1,600 rpm, so it keeps its mouth shut; the distinct diesel clatter is barely noticeable and your passengers will likely never guess you're burning oil.
But you'll still be burning rubber; the 0-100 dash takes 7.5 seconds, which is only about a second slower than the gas-powered, 268-hp
E350 4MATIC
. The quarter-mile flashes by in 15.3 seconds at 150 km/h, compared to 14.6 seconds for the gasoline E350. By the way, the BlueTEC model is rear-drive only.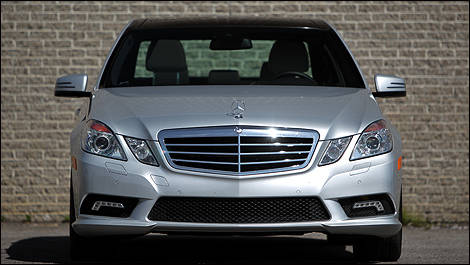 Our fuel economy average is 7.9 L/100 km. (Photo: Philippe Champoux/Auto123.com)