Calabogie, Ontario —
Last February, Porsche made a highly-exclusive addition to its performance car lineup. The
2011 Boxster Spyder
epitomizes the sporty weekday commuter that doubles up as a race car during the weekends.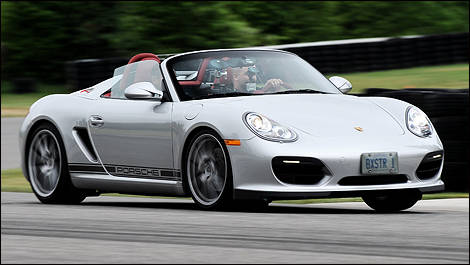 The 2011 Porsche Boxster Spyder starts at $72,900. (Photo: Matthieu Lambert/Auto123.com)
Using the
Cayman's
mid-mounted, direct-injected, 3.4-litre, flat-6 engine, the Spyder proves slightly more powerful (320 hp vs. 310) and more torquey (273 lb-ft vs. 266) than the regular
Boxster S
. However, the biggest news for Porsche and sports car enthusiasts is the impressive 80-kg reduction that drops weight to a mere 1,275 kilos and consequently makes the Spyder the brand's lightest production model.
Let's shave those kilos!
To achieve this result, engineers had to replace or eliminate a number of components and accessories we now take for granted in a modern Porsche. For starters, the excellent bucket seats made way for a pair of heavily-bolstered, non-adjustable racing seats (-23 kg). The audio system (-3 kg), climate control unit (-13 kg) and cupholders (negligible weight) are all out. Even the interior door handles (500 g) were discarded in favor of bow-type canvas straps similar to the ones in the 911 GT3 RS.
With a lower center of gravity, a firmer, 20-mm lower, sport-tuned suspension, 4- and 8-mm wider front and rear tracks as well as perfect weight distribution (50/50), the Spyder has all the ingredients to deliver the kind of handling performance drivers look for on the track. Take my word for it!
This Porsche is an absolute star on the tarmac. The ideally-taut, neutrally-balanced chassis obliterates the notion of body roll yet the ride isn't entirely devoid of comfort like a NASCAR machine. The razor-sharp steering maintains the driver's intended line with surgical precision. Meanwhile, the brakes prove easy to modulate and remarkably fade-free. Of course, those who crave performance and aspire to climb to the top of the podium will most likely select the Porsche Carbon Ceramic Brakes (PCCB) in order to enjoy surreal stopping power, even though they're listed as an $11,110 option.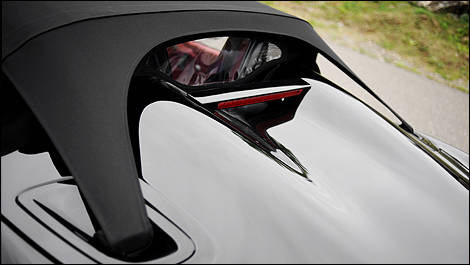 Once in place, the roof looks like a natural extension of the bulging single-piece rear hood, giving the Spyder an improvised Carrera GT silhouette. (Photo: Matthieu Lambert/Auto123.com)