If you're under 35, nonconformist, and preferably a trendsetter, you may read on. At least, that's what's insinuated in a Toyota Canada press release dated October 28, describing the target market of the new brand, Scion.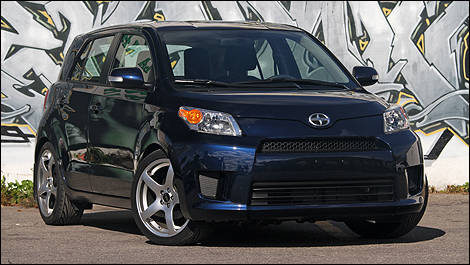 The Scion xD is a subcompact hatchback comparable to the Toyota Yaris, Ford Fiesta and Mazda2. (Photo: Luc Gagné/Auto123.com)
Scion is the youngest of Toyota's three brands. Introduced in the US in 2003, 16 years after Lexus, its mission is to rejuvenate the image of the Japanese automaker and attract younger North American buyers to its dealerships. The think tank that came up with it dubbed the project "Genesis." That says it all.
Even before the first cars were delivered to Canadian dealerships in September, Scion had already been associated with its target market, having been linked with such events as the CSCS Xtreme Tuner Challenge and the 2010 ImportFest, with Montreal's Piknik Electronik and Vancouver's Shine Night Club.
To better appreciate the diminutive
xD
I recently tested, after the first few instants on board I spontaneously cranked up the volume of the stereo system as high as it would go and let the rhythms of Don Rimini, Dada Life and Pets on Prozac take me away. Dude.
In fact, Céline Dion would have done just as nicely. After all, the xD is nothing more than a subcompact hatchback like so many others. Its colour palette even features a few insipidly named Toyota Camry hues: Alpine White, Classic Silver, Magnetic Grey and Barcelona Red. If you're looking to set a trend, look elsewhere.
Just your regular subcompact car
The xD is sized like a
Mazda2
, give or take a few millimetres. It can act as a substitute for all those superminis currently on offer, to whit, the Honda Fit, Nissan Versa, Chevrolet Aveo5,
Ford Fiesta
, Kia Rio5, and the rest.
This comparison stands until pricing enters the mix. Yes, the base price of the little Scion is quite a bit higher than that of its rivals. I'm talking a $3,000 difference here. The xD is even a few hundred dollars more expensive than the Fiesta, a supermini known for its high base price (which Ford justifies by its longer list of equipment).
In this regard, the xD and Fiesta are indeed alike. Both have inherited air conditioning, power windows, remote access, a rear windshield wiper, traction control and ABS right off the bat, as well as a full suite of airbags. The difference? The xD gets a tilting steering wheel, while the Fiesta's is also telescopic.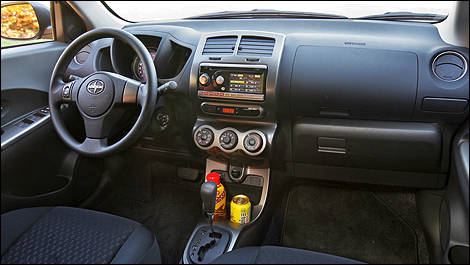 The dash is rather staid considering the brand's mission, to attract young and trendy drivers. (Photo: Luc Gagné/Auto123.com)