There may be no other car on North American roads that gets slapped around with so much prejudice as the
smart fortwo
. That's a shame, because there is a lot to like about this minicar despite all the negative things the general public has to say about it.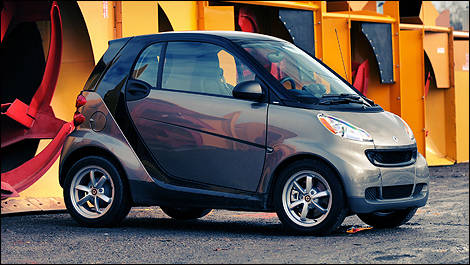 Is the smart fortwo really a chick car? (Photo: Matthieu Lambert/Auto123.com)
"It's a chick car", say the dudes. We say that because the car is cute, and our testosterone levels don't allow us to be seen behind the wheel of a cute car. I know ladies who love the smart, and others who hate it.
Of course, us guys could always check out the
fortwo Brabus
edition, which includes an aerodynamic body kit, speedy 15-inch front and 17-inch rear alloy wheels, a lowered suspension and a sport exhaust system with chromed tailpipes.
But that's like a picture of your baby with sunglasses and a beer bottle in his hand; he looks tough but you know he's still about to scream for his mashed potatoes. The North American fortwo Brabus isn't more powerful than a regular version, so it's cosmetic virility only.
Exterior changes for 2011 include an improved tailgate operation no longer requiring both hands to open the rear window, a body-coloured fuel-filler door, new alloy wheels and new colours.
"There's no room", say tall people. Actually, the fortwo offers more headroom than a Civic, a
Mazda3
and a
Corolla
, and almost as much legroom as most compact sedans. True, you might rub a shoulder with your passenger, but you won't feel cramped inside. Cargo space is rated at 340 litres when filled up to the roof, the same volume as a Civic's trunk.
In addition, the doors are almost as long as the car itself, so entry and exit aren't a problem either. Outward visibility is fantastic, thanks to the expansive windshield and high riding position. Besides the absence of rear seats, and contrary to popular belief, the fortwo is way more spacious and comfortable than a tanning booth.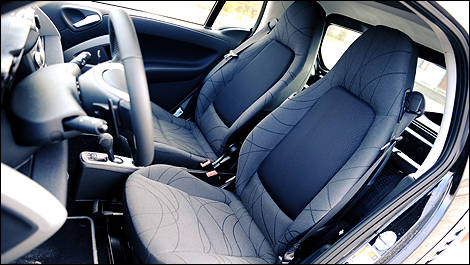 Besides a little shoulder rubbing, the smart's cockpit feels about as spacious as in a compact sedan. (Photo: Matthieu Lambert/Auto123.com)