Even I'm not sure whether the title means to say that Acura should worry or if they should not. Clearly though, Honda and Acura have had lots to worry about in the last few years.
Acura has seen its sales tumble regularly over the last 18 to 24 months, and I can understand why: Polarizing designs that fail to generate a conflicting or contrasting position can't be good – especially when it's all negative. We all know that design trumps, or quite nearly, everything including needs and usefulness. In the TL's case, at least since 2009, it's got it backwards.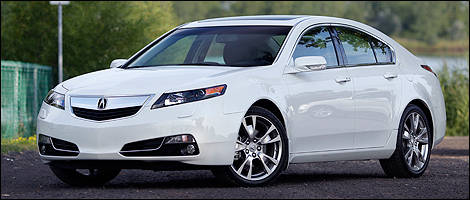 In Bellanova white, its stunted beak is far easier to appreciate, as is the TL's overall shape. (Photo: Sébastien D'Amour/Auto123.com)
The sad part about the
TL
is that it is actually a good car. Thankfully, it's been made more tolerable physically for 2012 with a revised front fascia that trades "I'm different" for "I want to be one of them." Gone is the overgrown layer of plastic which used to creep up to the bonnet, and revamped is the lower-bumper opening which holds turn-signals and fog lights. Out back, the lower portion of the bumper skin has also been revised, however, the changes are very subtle. The remainder of the car is largely untouched.
Overall, the tweaked, or watered-down, exterior shell is pleasant given what it used to be pre-2009, which was hot. This then is a compliment. In Bellanova white, its stunted beak is far easier to appreciate, as is the TL's overall shape.
The big Acura's cabin is generally untouched. If Honda and Acura can design one thing well, it's car interiors. Some, including I, would argue that they are far too busy. However, at the same time, they look modern and geared for the average tekkie. They may all be dark and, for some, drab but no one will pipe up and say that it's bad.
What also hasn't changed is the way all the panels come together; Acura has a knack for fit. Unfortunately, some of the materials have taken a turn for the worse. The shiny, metallic grey material splashed about used to be textured and nice to touch. For 2012, although the look from a distance is the same it's now actually a decal or sticker applied to plastic meant to mimic the previous textured surface. I personally don't like where this is going.
Truth is, the interaction between car and occupant is peachy. The plethora of controls can and does become second nature, and I especially appreciate the large rotary knob that works the nav system, amongst others. The best part about the car's passenger quarters are the seats. In true Acura fashion, they are firm, supportive and quite comfortable. As this TL is an Elite, it includes every accessory known to Acura, and they all work well.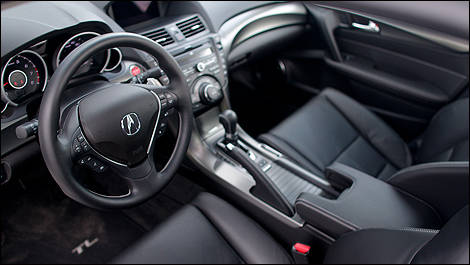 The big Acura's cabin is generally untouched. (Photo: Sébastien D'Amour/Auto123.com)