TORONTO, Ontario--
Do you own a small downtown business, or perhaps a local delivery service? Then you may want to read this, because I've just experienced what I consider to be the answer to all your prayers: the new Ford Transit Connect Electric.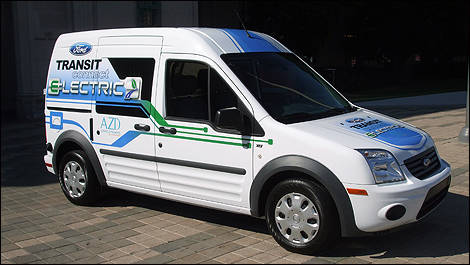 The Transit Connect Electric costs $63,200 CDN plus destination charge. (Photo: Kevin Corrigan/Auto123.com)
Obviously, to own and operate a small business, particularly in the downtown core, is costly. First, there's the expense of premium real estate, and then everyone wants their goods delivered today, and at little or no additional cost to them. But what can you do when fuel prices are skyrocketing through the roof?
Well, you can now give an ungentlemanly wave of your middle digit to the oil barons and go purely electric, because Ford is about to roll out its new plug-in Transit Connect Electric.
This
gas-powered vehicle
, which was named the 2010 North American Truck of the Year, has already proven itself immensely popular with businesses both here and around the world, is now available in electric form.
From the outside, one can barely tell the difference between this and the standard gasoline-powered model. In fact, even the rear cargo area stays pretty much the same. However, what's under the hood is what makes the difference, especially with regards to the cargo-carrying capacity of your wallet.
A 28-kWh
lithium-ion battery
powers the vehicle, and charges on a 240V/30A system in just 6 to 8 hours (perfect for overnight). 120V charging is also available through the vehicle's gas flap-looking docking port.
Apart from looking slightly different up front, everything you would expect to see is there, just adapted for an electric vehicle. The vacuum for the brake boost system is electrically driven, as is the steering/water pump, and the vehicle boasts A/C and just about everything else you'd expect to find in a modern commercial vehicle. Basically without delving deeper, you'd never know this vehicle was electric, apart from the fact that it doesn't stop at gas stations!
This small (although not as little as you might think) electrical marvel is capable of 120 km/h (75 mph) and in many ways, feels peppier than its gas-powered brother. This is one of the many benefits of electrically-powered vehicles, the availability of immediate torque.
A 28-kWh lithium-ion battery powers the vehicle, and charges on a 240V/30A system in just 6 to 8 hours (perfect for overnight). (Photo: Kevin Corrigan/Auto123.com)