The legendary Jeep Wrangler receives a subtle makeover for the 2012 model year. While a new heart moves the beast, its world-class off-roading skills remain unchanged.
The old 3.8-litre V6 makes way for the versatile Pentastar engine, which sends a healthier 285 horsepower and 260 lb-ft of torque to all four wheels through a 5-speed automatic transmission or 6-speed manual (the first manual gearbox to be available with this powerplant).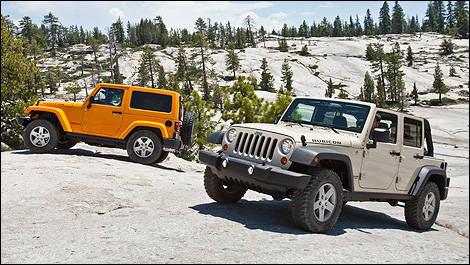 Photo: Chrysler
Jeep claims the transplant will improve fuel economy on the road while preserving all the Wrangler's capabilities off the road. Moreover, accelerations from 0 to 96 km/h will be 25-percent faster at 8.4 seconds.
Following the lead of many Chrysler products, the interior will feature higher-quality materials, automatic temperature controls and larger rear windows for greater visibility.
Elsewhere, classic design cues such as the 7-slot grille, round headlights, exposed door hinges, half-doors, fold-down windshield and removable top are back.
The Jeep Wrangler and Wrangler Unlimited will continue to be available in four trim levels, including Sport, Sport S, Sahara and Rubicon.