Hot on the heels of the countless unveilings and premieres at this year's New York Auto Show, Porsche has announced that the 2012 Cayenne and Panameras will be tweaked and $300-1300 more expensive than the 2011 versions.
The Cayenne S Hybrid will benefit from an improved management system that engages the electric motor directly on start-up and at low speeds. Before, this was only possible when the ideal operating temperature was achieved, i.e. after a few minutes.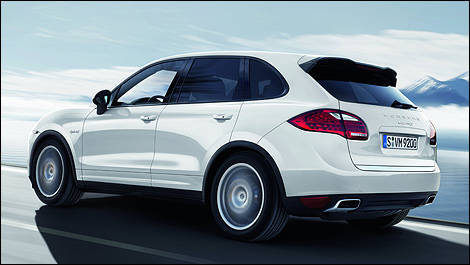 Porsche Cayenne S Hybrid (Photo: Porsche)
The Turbo variant will feature an available performance package including two new turbochargers and enhanced electronics. Output will be boosted from 500 to 540 hp, the 0-100 km/h dash will be 0.1 second quicker (4.6) and the top speed will increase to 281 km/h. Larger 420-mm front brake discs have also been added.
Several options will be available:
SportDesign package including painted wheel arch extensions for a more aggressive look
Bi-Xenon headlamps with black housings
Quad sport exhaust tips
Tinted LED taillamps
Decorative stitching and wood/leather accents
The Panamera will now boast standard heated seats and a heated steering wheel. The options list is longer and includes a lane departure warning system and blind spot monitoring. Bi-Xenon headlamps and a wireless Internet connection (by the end of 2011) complete the list of new features.