The
Evoque
invokes some pretty unique and interesting reactions in the general public. Since it was first released to the world just over a year ago, we've all been waiting with intrigued and baited breath for the baby Range Rover to hit the road.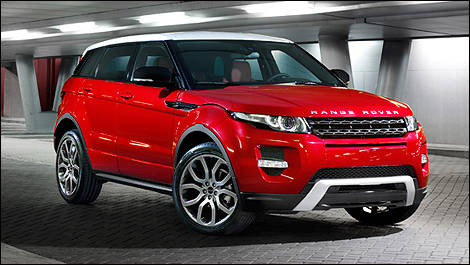 The Evoque invokes some pretty unique and interesting reactions in the general public. (Photo: Land Rover)
I got the chance to poke around the 3-door and 5-door versions of the baby Range Rover, and take them for a quick spin around town. It gave me the chance to figure out model specifics and to see what this racy-looking Range Rover is all about.
For starters, no one expected it to keep its sleek, slightly anorexic and uber urban look, but thankfully it did. In both the Coupe and 5-door version, the Evoque looks stunning, from all angles.
Land Rover's goal with the Evoque is to attract younger, hipper buyers to the brand and they've taken a page from MINI's handbook by offering the Evoque in a myriad of bright colours with the option of a different-coloured roof (in black, white or silver), along with seven different wheels to choose from. They even tapped into the ambient-lighting trend with a gentle blue hue on the Pure and Prestige models and a bright, fiery red fittingly in the Dynamic version.
The Range Rover Evoque will be offered in three main trim levels (for the 5-door version): Pure, Prestige and Dynamic. As a Coupe, the Evoque can be purchased as a Pure or Dynamic model only. Pure and Prestige models offer amenity options such as interior leather-clad trim and exterior design cue changes such as larger wheels.
Where it gets interesting is the Dynamic model, on which Land Rover offers not only a sportier stance and exterior look, but also adds the "Dynamic" drive mode to the Land Rover terrain selector. This gives the little urbanite 'ute a much sportier drive.
Standard on all Evoque models is what lies beneath the artistically sculpted hood: an all-new, turbo 2.0L 4-cylinder engine (dubbed the Si4) coupled with a 6-speed automatic transmission. This fuel-efficient powerhouse offers up 240 hp that it sends to all four wheels, thanks to Range Rover's standard AWD system. After driving the Evoque around town, it was clear this engine is made to be more efficient then invigorating, but it still has the grunt necessary to have a little fun behind the wheel (if you have that all-important "Dynamic" setting on the middle console).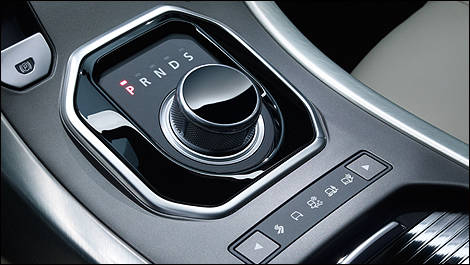 Where it gets interesting is the Dynamic model, on which Land Rover offers adds the "Dynamic" drive mode to the Land Rover terrain selector. (Photo: Land Rover)