Pros and Cons*
Pros
Quality build, quiet ride, impeccable handling, supportive seats and a superior all-wheel drive system combine to make the 2013 Audi A4 simply irresistible.
Cons
Limited rear cabin room, reduced steering feedback and the absence of a diesel option are some of the sorer points.
2013 Audi A4 sedan Price
The base price of the front-wheel drive Audi A4 starts at $37,800.
The all-wheel drive version has a MSRP of $39,700 with manual transmission and $41,300 when equipped with the DSG automatic.
As for the S4, it starts at $53,000 when equipped with the manual transmission and $54,600 with Audi's S tronic®.
2013 Audi A4 sedan Fuel Economy
The front-wheel drive Audi A4 consumes an estimated 8.6 L/100 km city and 6.2 L/100 km highway.
The all-wheel drive, manual transmission version consumes 9.5 L/100 km city and 6.3 L/100 km highway.
As for the manual S4, fuel economy is rated at 13.1 L/100 km city and 8.3 L/100 km highway.
These numbers are lower with the S tronic, and are estimated at 11.7 L/100 km and 7.7 L/100 km.
Exterior Styling
The A4 benefits from elegant new LED-framed headlights along with the restyled front grille design that is found on a number of other Audi models as well. The rectangular foglamps give it a distinctly elegant style.
2013 Audi A4 sedan Drivetrain
Under the hood, a turbocharged 2.0 litre engine churns out 211 hp and 258 lb-ft torque which can be delivered to two or all four wheels. The front-wheel drive version is mated to a CVT transmission. When all-wheel drive is added, a 6-speed manual or optional 8-speed Tiptronic transmission drives the vehicle.
The S4 version is powered by a turbocharged 3.0-litre V6 that produces 333 hp and 325 lb-ft torque. It can be matched to a 6-speed manual transmission or 7-speed dual-clutch S tronic automatic that delivers the power to all four wheels.

Cargo Capacity
Seat configuration can be arranged to expand cargo room from 352 to 962 litres.
Safety
Six standard airbags along with an additional two optional bags protect the occupants of this luxury sedan.
Comparing the 2013 Audi A4 sedan
Acura TL
, BMW Série 3, Cadillac CTS, Infiniti G,
Lexus IS
, Mercedes-Benz C Class, Volkswagen CC,
Volvo S60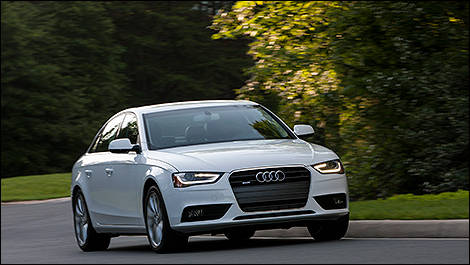 Photo: Audi
*References
Charette Benoit, L'annuel de l'automobile 2013, Montréal Transcontinental, 2012, p.100
Duquet Denis, Le guide de l'auto 2013, Montréal, Les éditions de l'Homme, 2012, p.138
www.audi.ca
2013 Audi S4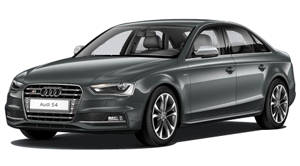 2013 Audi A4