Price Range:
$48,600 and up
Description:
Turbocharged power, all-wheel drive performance and one of the most striking looks on the road define Audi's TT Coupe model range. Priced from $48,600 for a standard TT, $57,900 for a high-performance TTS Coupe and $67,600 for the race-track-decimating TT RS Coupe, there's a model that's just right for virtually any need or budget.
All 2013 Audi TT models get two doors, four seats, and four-wheel drive thanks to Audi's traction-mastering Quattro technology.
Drivetrain:
The TT powertrain lineup goes thusly: standard models are fitted with a 2.0L 4-cylinder turbo engine featuring direct injection technology for 211 horsepower and a meaty 258 lb-ft of torque. A 6-speed S-Tronic dual-clutch gearbox is standard, maximizing performance with minimized drivetrain friction loss and millisecond gear change speeds with full throttle blipping.
Bumping it up a notch, the 2013 Audi TTS receives a special variant of the 2.0L engine that's tweaked by Audi's engineers to deliver 265 horsepower. Drivers can expect 0-100 km/h in 5.1 seconds.
Adding an extra cylinder and even more boost, the track-validated 2013 Audi TT RS dials in 360 horsepower and 343 lb-ft of torque for massive, on-demand acceleration, and low-end grunt. Available solely with a 6-speed manual transmission, the TT RS is geared towards the hardcore driving enthusiast who demands total control at all times.

Consider it if:
stand-out style, motorsports readiness and year-round performance are priorities in your next ride. Fuel efficiency is surprisingly good as well thanks to numerous features like direct injection and lightweight aluminum body structures across the 2013 Audi TT Coupe lineup,
Skip it if:
you're after all-out firepower for your cash, as there are more powerful, faster cars available for the money.
Other Notes:
A full suite of safety and connectivity features is on board the 2013 Audi TT Coupe including protective gear like advanced airbags and a crash-optimized body structure, as well as voice-commanded features like a Bluetooth phone interface to help minimize distraction on the go.
Depending on the model and features selected, a bi-xenon headlight system with adaptive functionality and headlight washers ensures optimal visibility at all times, regardless of weather.
Don't Miss:
The audio package. Teaming up with Bose, Audi offers a 10-speaker up-level audio system with premium components. An S-Line package is available on the 2013 Audi TT, adding Nappa leather sports seats, special exterior upgrades, unique badges, and more.
Audi Magnetic Ride technology lets drivers set their TT's suspension to one of two modes at the touch of a button. The "Normal" mode prioritizes an all-around balance of handling and comfort for touring and general driving. The "Sport" mode offers higher damping rates to help keep the 2013 Audi TT's body sprung more tightly against its wheels for suppressed body roll and more precise cornering.
The 2013 Audi TT RS gets a distinctive carbon-fibre engine cover, cross-drilled front brakes, and massive dual exhausts, as well as a large fixed spoiler to communicate its high-performance intentions visually.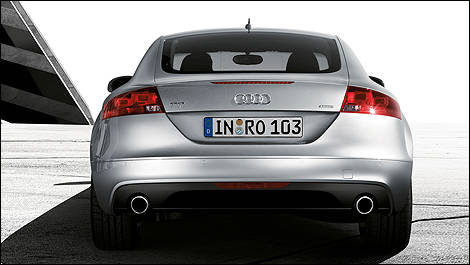 Photo: Audi
2013 Audi TT