WAYNE COUNTY, Michigan —
In the lead up to the
2012 show in Detroit
, Ford released a few more specifications for the upcoming
Ford C-MAX Hybrid and its plug-in variant, the Ford C-MAX Energi
.
The 7-seater Grand C-MAX has obvious appeal, so the decision to not bring it to North America is still a curious one. (Photo: Ford)
No hard numbers yet about anything electrical, but Ford officials did make a few promises:
The C-MAX Hybrid will achieve better EPA fuel economy ratings than the Toyota Prius v. Ford didn't mention the regular Prius, so we could assume that C-MAX Hybrid fuel economy will fall somewhere in that Prius sandwich.
When in electric mode, the C-MAX Energi is targeted to deliver a better fuel economy equivalent (MPGe) than the Toyota Prius PHEV. Ford said this enables C-MAX Energi to have an overall driving range of 500 miles (about 800 km).
Both C-MAX models will use Ford's new-generation "power split" hybrid technology, enabling the vehicles to operate in electric-only mode, gas engine-only mode, or a combination of both.
New features and apps
C-MAX will feature Ford's hands-free liftgate, as debuted on the all-new
2013 Ford Escape
. With your keyfob in your pocket, you can power the liftgate open with your foot, as a sensor under the rear bumper will detect your "kicking motion."
C-MAX will also feature the latest version of SYNC with MyFord Touch. In C-MAX Energi the systems offers information on battery state of charge and distance to the next charge point. And like Ford Focus Electric, C-MAX Energi is available with the MyFord Mobile app, to facilitate remote charging, the receiving of alerts, find charging stations, etc.
There is also the next-generation SmartGuage, a fuel-economy coach. On the right side of the cluster, green leaves reveal overall driving efficiency. The left side shows how well you're doing on capturing energy during deceleration and braking. Ford claims the system can recover 95 percent of such available energy.
Options include active park assist, push-button start, high-end Sony audio system and voice-activated navigation.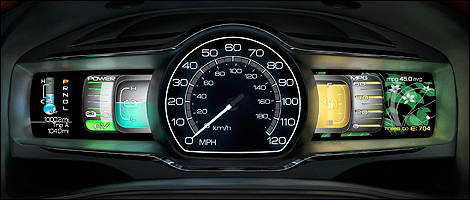 Inside, there is also the next-generation SmartGauge, a fuel-economy coach. (Photo: Ford)