The folks at GMC have decided to add a Denali edition to their Terrain compact SUV for 2013. The Terrain will also see its 3.0L V6 replaced by GM's ubiquitous direct-injected 3.6L V6; horsepower climbs from 264 to 301 hp, while torque rises from 222 to 272 lb-ft.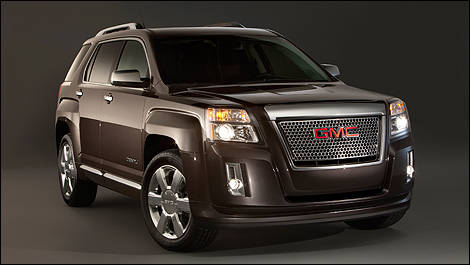 Photo: General Motors
The 2013 GMC Terrain Denali will be available front-wheel and all-wheel drive configurations, although the Canadian market might only get the AWD version. The Denali's suspension gets dual-flow dampers, which is said to provide a smoother ride and improved handling. The Denali should be available with both the 182-hp, 2.4L inline-4 and the new V6.
The Terrain Denali will also benefit from a unique chromed grille, body-colour front and rear facsias, new headlamp and taillight designs, black leather upholstery with contrast stitching, mahogany wood trim and a soft-touch instrument panel with French stitching.
Pricing and availability will be announced at a later date.