Pros and Cons*
Pros
Numerous affordable options, quality materials, an outstanding warranty and elegant design that will surely stand the test of time are just a few of the attributes of the 2013 Kia Forte.

Cons
Lack of adequate driver seat adjustments for optimal driving conditions, tight rear seats, imprecise manual transmission, lacklustre interior and small trunk opening hurt its overall appeal.
Price
LX, LX Plus and EX versions are equipped with standard 2.0 litre engine. The LX version starts at $17,450. It comes with standard 15-inch wheels, heated/electric rear-view mirrors, AUX and USB ports, Bluetooth compatibility and steering-mounted audio controls.
The LX Plus is delivered with standard automatic transmission, remote entry, theft alarm and Active ECO-System for a MSRP of $20,150.
Standard equipment on the EX includes air conditioning, heated seats, speed control, 16-inch alloy wheels and chrome door handles. Active ECO and automatic transmission bring the MSRP to $21,250. The total climbs to $22,150 when adding the sun roof.
The SX version is powered by a 2.4 litre engine and starts at $24,550. 17-inch alloy wheels, sun roof, paddle shifters, leather seats and sport suspension are in addition to the EX standard equipment.
The 2.4 litre engine, start/stop button, SmartKey, self-dimming mirrors and navigation system are all standard equipment in the SX Luxury version, which starts at $27,050.
Fuel Economy
The manual-transmission equipped Kia Fortes consume 8.1 L/100 km city and 5.7 L/100 km highway in comparison to 8 L/100 km city and 5.5 L/100 km highway for automatic transmission versions.
The 2.4 engine with manual transmission consumes 9.2/ 6.2 L/100 km city/highway while the automatic transmission consumes no more than the manual version in city driving and 0.2 L/100 km less in highway tests.

Exterior Styling
This stylish compact sedan has a youthful and exuberant style that is very appealing. A sporty honeycomb grille envelops the corporate logo and is neatly surrounded by horizontal headlights that reach up into the fenders. The rakish rear end perfectly integrates the attractive taillights.

Drivetrain
The base 2.0 litre engine produces 156 hp and 144 lb-ft torque. It comes with available 6-speed manual or automatic transmission.
The 2.4 litre 4-cylinder engine in the SX and LX versions produces 173 hp and 168 lb-ft torque. A 6-speed Steptronic transmission is the only available transmission.

Cargo Capacity
The trunk can hold up to 415 litres.

Safety
Six airbags, 4-wheel disc ABS brakes, steering-mounted controls and active headrests are all standard safety equipment on this model.
Comparable Models
Chevrolet Cruze,
Dodge Dart
, Ford Focus, Honda Civic,
Hyundai Elantra
, Mazda 3, Mitsubishi Lancer, Nissan Sentra, Subaru Impreza, Suzuki SX4, Toyota Corolla,
Volkswagen Jetta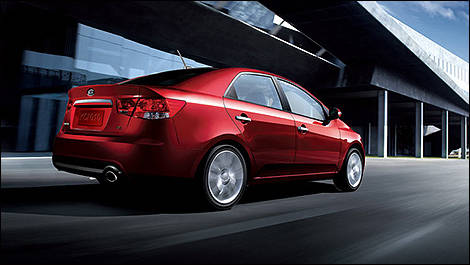 Photo: Kia
*References
Rufiange Daniel, L'annuel de l'automobile 2013, Montréal Transcontinental, 2012, p.338
Charette Daniel, L'auto 2013, Montréal, Les éditions La Presse, 2012, p.332
Duquet Denis, Le guide de l'auto 2013, Montréal, Les éditions de l'Homme, 2012, p.358
http://www.kia.ca
2013 Kia Forte