Pros and Cons*
Pros
Its long list of standard features and alluring design are very impressive. Available options are way beyond what one would expect from a vehicle in this category. The dynamic ride and generous trunk opening are among the multitude of features and advantages that are standard in the 2013 Kia Rio sedan.
Cons
The engine is easily overburdened (especially in ECO mode) and the interior sound level is high. An options list that can quickly get out of hand and inflate the final price as well as the limited cabin space are definite liabilities.
Price
The base model LX starts at $15,350 and comes with a centre console as standard with stow-away armrest, steering-mounted audio controls, AUX and USB ports as well as 15-inch wheels and body-coloured outer door handles.
The LX+, with an MSRP of $16,850 is equipped with standard steering wheel mounted speed control, Bluetooth, foglights and heated front seats.
ECO-ACTIVE automatic transmission raises the total to $18,150 while the combination of idle stop/start and 15-inch alloy wheels brings the price up to $18,950.
At $18,850, the EX version comes equipped with standard backup camera, mirror-integrated LED signal lights, UVO infotainment system, 16-inch alloy wheels, automatic headlight control, leather steering and shifter knob as well as a power sunroof. An extra $1,300 is required for the ECO-ACTIVE transmission.
The SX UVO is the most generously-equipped model with a refrigerated glove box, ECO-ACTIVE automatic transmission, chrome exhaust tips, LED signal and tail lights, 17-inch alloy wheels, automatic climate control, leather seats, sport suspension, and heated steering. Optional navigation system brings the total to $ 23,350.
Fuel Economy
The fuel economy ratings of the 1.6 4-cylinder engine are an estimated 6.9 L/100 km city and 5.3 L/100 km highway.
In ECO mode these numbers fall to 6.8 L/100 km city and 5.4 L/100 km highway.
Exterior Styling
The Kia Rio Sedan was completely redesigned in 2012. The four door Kia Rio sports an upfront signature grille with some neat yellow highlights added to accentuate the oversized headlights.
Drivetrain
The only available engine is a 1.6 litre 4-cylinder that produces 138 hp and 123 lb-ft torque. It can be matched to either a manual or automatic 6-speed transmission.
Cargo Capacity
There is an available 387 litres of trunk space, which is 25 more than the Ford Fiesta.
Safety
Protection for the Rio Sedan occupants is provided by six airbags, ABS brakes and reinforced chassis.
Comparable Models
Chevrolet Sonic
,
Ford Fiesta
,
Hyundai Accent
, Nissan Versa.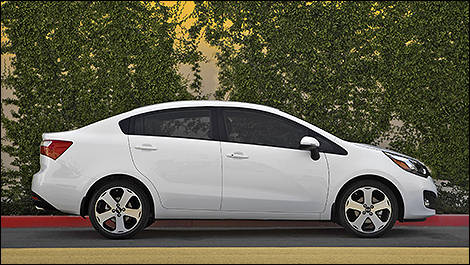 Photo: Kia

*References
Rufiange Daniel, L'annuel de l'automobile 2013, Montréal Transcontinental, 2012, p.342
Lefrançois Éric L'auto 2013, Montréal, Les éditions La Presse, 2012, p.336
Morin Alain, Le guide de l'auto 2013, Montréal, Les éditions de l'Homme, 2012, p.362
http://www.kia.ca