Pros and Cons*Pros
The soundproofing in the 2013 Mercedes-Benz E Class Cabriolet is amazing. It's extremely agile and exceptionally comfortable, and the modern technology and capacity to seat two adults in the rear-seats give it a definite competitive edge.
Cons
Limited trunk space with lowered roof, the sheer number and high cost of additional options, as well as the imbalance between comfort and sportiness, which may turn some people off.
Price
The 2013 Mercedes-Benz E Class Cabriolet starts at $69,200. It comes with standard 18-inch wheels, AGILITY CONTROL suspension, chrome dual-exhaust, multifunctional leather-trimmed steering wheel, heated front seats, rain-sensing wipers, electric soft-top roof, and Bluetooth connectivity.
The V8 powered E 550 starts at $79,900. It comes equipped with standard 18-inch wheels, lighting package, seating package, dynamic handling package, appearance package, multicontour front seats and electrical tilt and telescopic wheel.
A premium package is available for an additional $3,700, as well as the advanced driving assist package, at $2,700, a wood steering wheel and shifter package at $800 and the driving assist package at $800.
Fuel consumption
The V6 powered E 350 consumes 10.8 L/100 km in city tests and 7.1 L/100 km in highway testing
The V8 powered E 550 Cabriolet numbers are estimated at 12.2 L/100 km city and 7.8 L/100 km highway.
New and improved for 2013
The displacement of the V8 was dropped from 5.5 to 4.6 litres in 2012.
The ECO stop/start function was added to the V6 model in 2013.
Exterior design
This two-door soft-top convertible is built on the C Series chassis. It is easily recognizable as it sports the same twin horizontal-fin grille, integrated Mercedes three-sided star, and twin headlights as its C Class sibling. Its distinctive lines and sensuous curves exude style and refinement. The LED daytime running lights add a modern touch to the overall look.
Drivetrain
The E 350 Cabriolet is equipped with a 3.5 litre direct-injection V6 that produces 302 hp and 273 lb-ft torque.
The twin-turbo V8 that powers the E 550 delivers 402 hp and 443 lb-ft torque.
These two power plants drive the rear wheels through a 7-speed 7G-TRONIC PLUS automatic transmission.
Trunk capacity
The Cabriolet offers 390 litres of cargo volume, which drops to 300 litres when the soft-top is lowered.
Security
The 2013 E Class Cabriolet is equipped with six airbags. Its high strength steel chassis and roll-over bars protect the occupants at all times. The basic active safety features are all standard equipment, and a series of optional safety packages are available.
Comparable models
Audi S5 cabriolet,
BMW 3 Series cabriolet
,
Infiniti G37 cabriolet
,
Volvo C70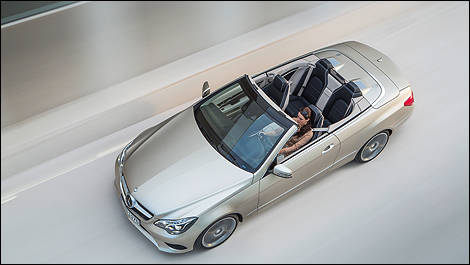 Photo: Mercedes-Benz
*Références
Charette Benoit, L'annuel de l'automobile 2013, Montréal Transcontinental, 2012, p.426
Gélinas Gabriel, Le guide de l'auto 2013, Montréal, Les éditions de l'Homme, 2012, p.448
www.mercedes-benz.ca