Pros and Cons*
Pros
This spacious sedan is endowed with a luxurious interior befitting Nissan's high-end Infiniti. It's not as well-equipped but also provides an exemplary ride. Engine performance is both proven and reliable.
Cons
Even so, this car seems awkwardly positioned in the market, located somewhere between large and luxury sedans. The price of the 2013 Nissan Maxima is uncomfortably close to that of some of the Infiniti and Mercedes-Benz models. Assembly quality must be improved. The continuously variable automatic transmission (CVT) is the only alternative.
Price
Just one version is available, namely, the 3.5 SV, priced at $37,880. Features include 18-inch aluminum alloy wheels, power moonroof, Intelligent Key entry and starting, foglights, heated leather seats, 9-speaker Bose audio system as well as Bluetooth and iPod/USB connectivity.
The optional Premium package can be yours for an extra $2,800 price.
With it you get the dual-panel sunroof, electric rear window sun visor, high-intensity discharge Xenon headlights, rearview camera and leather-wrapped tilt-and-telescoping steering wheel.
The Sport package costs $2,350 and includes 19-inch aluminum alloy wheels, sport-tuned suspension plus special exterior and interior trim details like rear spoiler, sport grille, frame reinforcement for the trunk, Xenon headlights, rearview camera and upgraded leather upholstered seating.
The Technology package can only be added to the Premium or Sport packages. It adds a 7-inch touch screen color monitor navigation system, DVD player and Bluetooth streaming audio. The cost is $2,200.

Fuel Economy
10.9 L/100 km and 7.7 L/100 km for city/highway respectively.
New for 2013
- Sport package available as option
- New 19-inch wheels
Exterior Styling
This 5-passenger sedan exudes luxury and elegance. Chrome window trim, distinctive front and rear lights make the 2013 Nissan Maxima a unique sight.
Powertrain
The 3.5-litre V6 puts out 290 hp and 261 pound-feet of torque. Power is sent to the front wheels though a CVT transmission with manual sport mode for the CVT.
Cargo Capacity
In the trunk you're looking at 402 litres of cargo space, a better volume than the Acura TL, Buick LaCrosse, DC Volkswagen and Volvo S60.
Safety
Six airbags are installed in the Maxima.
Also provided - ABS, stability control and priority braking system.
Comparable Models
Acura TL, Buick LaCrosse, Chevrolet Impala, Chrysler 300, Dodge Charger, Ford Taurus, Hyundai Genesis, Lexus ES, Lincoln MKZ, Toyota Avalon ,Volkswagen CC, Volvo S60.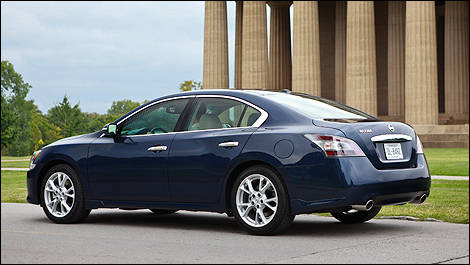 Photo: Nissan
*References
Rufiange Daniel, L'annuel de l'automobile 2013, Montréal Transcontinental, 2012, p.482
Richard Louis-Alain, L'auto 2013, Montréal, Les éditions La Presse, 2012, p.458
www.nissan.ca
2013 Nissan Maxima