Pros:
When it comes to crushing performance, world-class luxury, striking looks, and an absolutely track-ready package, the CTS-V Coupe from Cadillac is unrivaled in its price range. The most potent Cadillac model available, the CTS-V Coupe has driving enthusiasts in its sights thanks, in no small part, to a motorsports-validated powertrain, countless chassis and brake upgrades, and one-of-a-kind looks.
Fans of the CTS-V Coupe will note larger wheels, large centre-mounted chrome exhaust tips, a more aggressive fascia, and a distinctive bulged hood. The bulge is no empty threat.
Cons:
Though the Cadillac CTS-V Coupe excels in all areas relating to speed, acceleration, and driving thrills, its power output, fuel consumption, and ability to collect speeding tickets may prove too extreme for some shoppers. Limited trunk space and rear-seat headroom ensure this rocket-propelled Caddy will not likely be used for family-hauling duty.
2014 Cadillac CTS-V Coupe Price:
The CTS-V Coupe is priced from $72,785 with options limited mainly to wheel choices, some premium colours, and available Recaro Front Performance Seats, which will relieve drivers of $3,910.
2014 Cadillac CTS-V Coupe Fuel Economy:
Combined fuel efficiency ratings for the 2014 CTS-V Coupe are rated at 14.8L/100km combined on models with the automatic transmission, and 13.1L/100km for models with the manual 6-speed gearbox.

Improvements and Changes:
Changes are sparse for 2014, and limited mainly to a revised paint and cabin colour palette and some new trim materials.

Don't Miss:
The premium Recaro Front Performance Seats. From the racing-seat experts at Recaro, these special perches are fitted to offer the support and driver stability that's key to dynamic motoring. Suede helps keep occupants firmly in place, as do the aggressive bolsters -- meaning the driver and front passenger are locked in during high-speed maneuvers. The bolstering can be dialed up and down as required so that during a peaceful cruise, the race-ready seats can be relaxed into a more comfortable form. The Recaro performance seats are heated and chilled, too.
2014 Cadillac CTS-V Coupe Powertrain:
The Cadillac CTS-V Coupe comes just one way in the powertrain department: with 556 supercharged horsepower driving the rear wheels. The blown LSA V8 engine displaces 6.2L and includes a boost gauge so drivers can keep an eye on the operation of the output of the Eaton TVS Supercharger in real time. A Performance Traction Management system assists drivers in making full use of the available firepower.
Safety:
The 2014 Cadillac CTS-V Coupe helps drivers keep things under control with the StabiliTrak stability control system, potent Brembo brakes with advanced electronic functionalities, and a full traction-control system. A full perimeter of airbag protection, as well as a crash-optimized body structure offer protection should an impact prove inevitable. Further, the CTS-V benefits from Cadillac's exclusive OnStar technology that can summon emergency help at the touch of a button.
Comparables:
Shopping the luxury coupe market? Be sure to consider the Cadillac CTS-V Coupe alongside similar models like the Infiniti G37/Q50 Coupe,
Mercedes C-Class Coupe
,
Audi A5
, and new
BMW 4 Series
.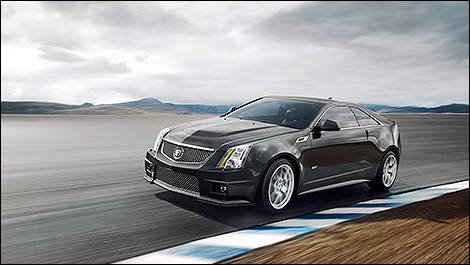 Photo: Cadillac