2014 BMW 4-Series Coupé – Pros and Cons*Pros
The refined, aerodynamic design of this latest BMW is stunning and noticeably more efficient, given its considerably lower centre of gravity and 50/50 weight distribution.
2014 BMW 4-Series Coupé – Price
The 428i's starting price is $44,900.
You'll have to spend $49,000 for the AWD xDrive version.
Powered by a 6-cylinder engine, the 435i retails for $54,900, which increases to $55,600 for the 435i xDrive.
BMW offers many versions of the 4-Series Coupé. Aside from the basic model, the Sport, Luxury, Modern and Pack Sport M packages each have their own series of equipment.
Fuel economy
The vehicle's light construction materials and start-stop system guarantee favourable fuel savings.
The 4-cylinder engine is rated at 7.4L/100km.
The 6-cylinder's ratings climb to 8.6L/100km for the manual transmission and 8.1L/100km for the automatic.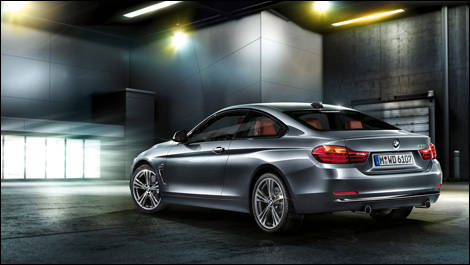 Photo: BMW
Exterior styling
The 2-door sedan is sized somewhere between the 3-Series and the 5-Series. Indeed, it is lower, larger, and has a wider wheelbase than the 3-Series model, with distinctive circular LED headlights and an elongated hood.
2014 BMW 4-Series Coupé – Drivetrain
The 428i Coupé is equipped with a 4-cylinder, 245-hp engine with 258 lb-ft of torque.
The 435i is powered by a 6-cylinder, 206-hp engine with 295 lb-ft of torque.
All engines use TwinPower Turbo technology. The 6-speed manual transmission powers the rear wheels. An 8-speed, automatic transmission is available as an option.
Cargo capacity
The 4-Series model has 445 litres of trunk space.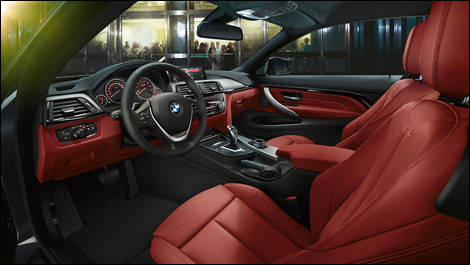 Photo: BMW
Safety
The 2014 BMW 4-Series Coupé sports several cutting-edge technologies, including a head-up display, Driving Assistant Plus, active cruise control, a lane departure warning system, and a rear-view camera.
2014 BMW 4-Series Coupé – Comparable models
Audi A5
,
Cadillac CTS Coupe
,
Infiniti G Coupe
.
*References
press.bmwgroup.com