The current-generation Chevrolet Impala seems frozen in time; it was redesigned for the 2006 model year, and has received few changes since then. It still sells well, if you consider fleet sales such as police and rental cars.
The totally redesigned
2014 Chevrolet Impala
will be on sale in early 2013, and will undoubtedly seek to please a greater number of private owners, with swoopy new sheetmetal in a sophisticated new interior design.
New engines
Only one engine is currently offered in the Impala, but the 2014 model will boast three powertrain options. The most potent one will be a 3.6L V6 developing 303 hp and 264 lb-ft of torque, while a 2.5L inline-4 with 195 hp and 184 lb-ft will also be available. The third engine is GM's eAssist (read: mild hybrid) powertrain which consists of a 2.4L engine, an electric motor and a small battery pack, good for a combined total of 182 hp. All engines will be paired to a 6-speed automatic transmission.
As with the current generation, the front-wheel drive 2014 Chevrolet Impala will also benefit from a four-wheel independent suspension and four-wheel disc brakes; however, the steering will be electrically assisted, while 18", 19" and 20" wheel sizes will be offered (versus 16 to 18 inches on the 2013 model).
Same footprint
The new Impala is fractionally bigger than the current-generation car; wheelbase and overall length grow by about an inch, while all other exterior dimensions are virtually identical. Same story inside, as the 2014 version will be a smudge roomier in passenger and trunk space.
However, the Impala's redesign marks the disappearance of an available front bench seat, as the 2013 model is the last car on our market to offer one.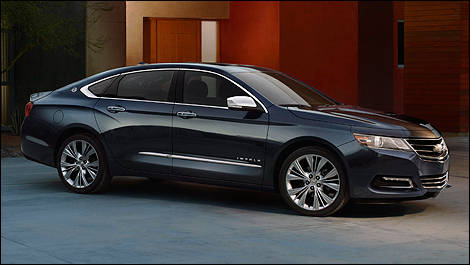 The new Impala is fractionally bigger than the current-generation car. (Photo: Chevrolet)
Shapely body
To better rival more modern full-size sedans such as the
Ford Taurus
and the
Dodge Charger
, the 2014 Chevrolet Impala sheds its conservative styling for a much more noticeable look. Highlights will include deeply sculpted doors, muscular front and rear fascias, a slim greenhouse and a sloping roofline that give the car a hatchback-like silhouette.
The industrial look of the current Impala's cockpit will make way for a shapelier appearance and available two-tone colour schemes. The 2014 Impala will also get some new tech-gadgets such as a multimedia system with an 8" touchscreen and Chevrolet MyLink as well as Bluetooth streaming audio. With the help of sound-deadening materials and active noise cancellation on certain models, GM claims the big Chevy will be very quiet inside.
Of course, modern-day safety features will also be offered. In addition to 10 standard airbags and OnStar, the 2014 Chevrolet Impala will be available with adaptive cruise control, forward collision alert, blind-spot and lane-departure warnings as well as collision mitigation braking.
Since the Caprice PPV will not be sold in Canada, we should expect a police pack version of the Impala to eventually appear.
The 2014 Chevrolet Impala will be assembled in GM's Hamtramck, Michigan plant alongside the Volt.
GM claims the big Chevy will be very quiet inside. (Photo: Chevrolet)
2014 Chevrolet Impala