Pros:
The 2014 Chevrolet Malibu further extends the popular family sedan model's appeal to a value and confidence-minded shopper with the use of new styling, new technologies and even more fuel-saving measures to turn in reduced operating costs. Packing more content into this leading model than ever before will help cement the Malibu's position in its marketplace, where it competes against models like the Accord, Camry, Mazda6, Fusion, and Altima.
Cons:
Though packed with highly-relevant feature content, Malibu isn't available with AWD technology, which is increasing in popularity. Some shoppers after an up-powered model may shy away from the optional turbocharged 4-cylinder engine, possibly opting for a model with a more conventional V6.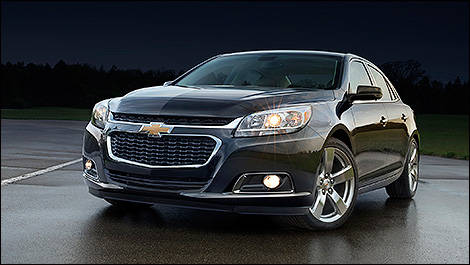 Photo: Chevrolet
2014 Chevrolet Malibu Pricing:
Pricing for the recently-refreshed 2014 Chevrolet Malibu starts at $24,995 for the entry-level LS model, while various 'LT' grade models are priced between $26,795 and $30,215 while packing bundles of must-have equipment into high-value packages. The top-grade LZ models start at $32,995. Various standalone features, packages and accessories provide further opportunity for shoppers to customize the 2014 Chevrolet Malibu to their exact tastes.
2014 Chevrolet Malibu Fuel Economy:
Look for fuel consumption to land at a combined rating of 8.5L/100km in models powered by the 2.0L turbo engine, and just 6.8L/100km with the standard powerplant.
Improvements and Changes:
A slew of changes and improvements help make the updated 2014 Chevrolet Malibu an even more compelling product than ever. An all-new ECOTEC four-cylinder engine provides more power and better mileage, thanks in part to a new auto START/STOP function that shuts the engine down when it would otherwise idle. Enhanced variable valve timing functionality improves breathing and efficiency. Chassis and suspension modifications turn in a more refined and comfortable ride, improved steering feel and better-than-ever handling. New safety systems allow the Malibu to scan its surroundings for signs of danger, keeping the driver alerted to possible hazards in real time. Designers even revised the cabin to create more rear-seat legroom for added comfort.
Don't Miss:
The safety scores. Malibu packs a variety of features and systems designed to support drivers in staying out of accidents—though if an impact proves inevitable, shoppers can rest assured they're in a vehicle that offers up top industry safety scores. The 2014 Malibu has, for instance, earned the top 5-Star Overall Vehicle Score from the NHTSA for exceptional crash test performance.
2014 Chevrolet Malibu Powertrain:
Two engines are available in the latest Malibu variant. A new 2.5L ECOTEC four-cylinder becomes Malibu's standard engine, providing 196 horsepower and a slew of new internal, fuel-saving systems. For those after added output, Malibu Turbo packs a 2.0L turbocharged ECOTEC engine that's been updated for this year to turn in class-leading torque. Output is rated at 259 horsepower.
Safety:
With a standard array of airbags, stability control, OnStar, advanced antilock brakes and a proven, crash-optimized body structure, Malibu owners can rest assured they're travelling in one of the most comprehensively-equipped vehicles in its segment when it comes to delivering peace of mind on any trip.
Comparables:
The 2014 Chevrolet Malibu competes with models like the Toyota Camry, Mazda 6, Nissan Altima, Ford Fusion, Hyundai Sonata, Kia Optima and others.