Price Range: $44,595 - $57,250 USD (no Canadian pricing for 2014 yet)
Description
The 2014 Chevrolet Tahoe is a full-size utility vehicle, an SUV, with seating for up to nine passengers and enough cargo space (3,084 litres with the third and second row down) to accommodate pretty much anything.
For 2014 the Chevrolet Tahoe hasn't seen any major changes over the 2013 model. Three models are available: LS, LT, and LTZ. The Tahoe is also available in 2WD or 4WD. The Tahoe also offers a Z71 Off-Road package that features off-road jounce bumpers, skid plate package, and specially tuned springs amongst other things.
Drive
The 2014 Chevrolet Tahoe is powered by a Vortec 5.3L V8. That engine is good for 320 horsepower and 335 lb-ft of torque. Despite the size of its engine, the 2014 Chevy Tahoe manages fuel efficiency numbers (according to GM) in the 8.5L/100km (highway) range, a reading taken on the 4WD model. How did they achieve such low numbers? Well, Active Fuel Management in the 2014 Chevrolet Tahoe shuts down four of the eight cylinders when they aren't needed.
Not only does the 2014 Chevrolet Tahoe have the ability to cart around all your family members and their gear, but the American-bred SUV also offers up a towing capacity of 3,856kg. Features like a Hill Hold Assist as well as Tow/Haul Mode transmission help the behemoth play double duty with a tailor.
Amenities
The 2014 Chevrolet Tahoe can be loaded to the sunroof with creature comforts that'll keep all occupants happy (and quiet!) on long road trips. Bluetooth and satellite radio are available, as well as a Rear Entertainment Package with a DVD player and fold-down monitor. OnStar is also available in the 2014 Chevrolet Tahoe.
In short
The 2014 Chevrolet Tahoe is identical to the 2013 model and continues to offer up everything you'd expect from an SUV of its size and nature.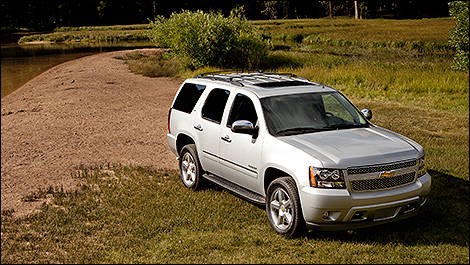 Photo: Chevrolet