Pros:
The 2014 Chevrolet Volt is an electric car with range-extending technology that can cover up to 65 kilometres in zero-emissions mode, making it very clean and efficient. It's also a modern, comfortable vehicle with a convenient rear hatch. Provincial rebates for EV buyers and leasers make the Volt even more attractive.
Cons:
While exclusively propelled by its electric motor, the Volt uses a small gasoline engine/generator to feed the motor whenever the lithium-ion battery runs empty, which adds considerable weight to the car. Also, the brakes are touchy.
2014 Chevrolet Volt Price:
A single trim level appears on the menu, and it starts at $38,845 (freight and delivery charges included). Of course, you can select various options. As for green-car incentives, the Quebec government, for instance, gives a $7,865 check to every Volt buyer or leasee.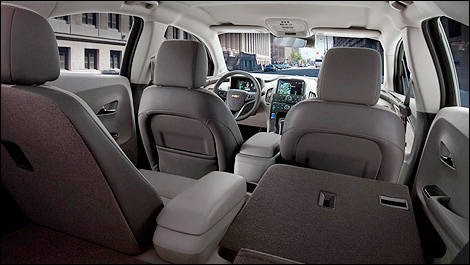 Photo: Chevrolet
2014 Chevrolet Volt Fuel Economy:
Obviously, as long as the gas engine sleeps, the Volt won't burn a single drop. On average, though, it achieves the equivalent of 2.4L/100km.
Improvements and Changes:
Not much to report here, aside from new body colours. That being said, GM has significantly cut the price for 2014.
2014 Chevrolet Volt Powertrain:
Under the hood is a 149-horsepower electric motor that produces a V6-like 273 lb-ft of torque. As mentioned earlier, there's also a 1.4L 4-cylinder gasoline engine/generator whose sole purpose is to feed the motor whenever the lithium-ion battery runs empty. A continuously variable transmission completes the equation.
Cargo Capacity:
The 2014 Chevrolet Volt's trunk can hold no more than 300 litres of gear.
Safety:
Standard equipment includes ABS, electronic brake force distribution, stability and traction control, OnStar assistance, and eight airbags. You can boost safety by adding a rearview camera, ultrasonic rear parking assist, lane departure warning, and forward collision alert.
Comparing the 2014 Chevrolet Volt:
The Volt competes against fully electric cars such as the Nissan LEAF and Ford Focus Electric.