-Upgraded MyFord Touch system
-Standard automatic headlights
-New colours available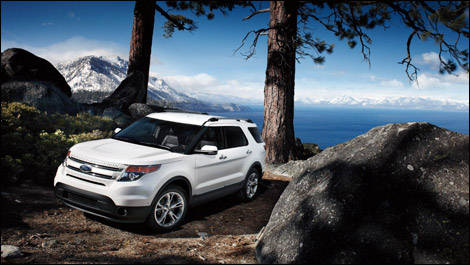 Photo: Ford
2014 Ford Explorer – Price
The 2WD basic model, equipped with a 3.5L V6 engine, starts at $29,999.
In the same 2WD series, the 2.0L EcoBoost model is available for $30,999.
For an AWD model with a 6-cylinder engine, the cost climbs to $32,999.
The 2WD XLT V6 is offered at $36,299.
The 4-cylinder, EcoBoost front-wheel drive XLT costs an additional $1,000.
The AWD V6 starts at $39,299.
The AWD Limited is powered by a V6, 3.5L engine with a starting price of $44,899.
The Sport model is offered in 4WD with a 3.5L EcoBoost engine for $48,499.
For more on the 2014 Ford Explorer, please read:
Ford Explorer 2013 Review
Ford Explorer 2013 First Impressions