Pros:
The 2014 Ford Focus ST is a very modern and stylish compact car both inside and out. Comfortable seats, great fuel economy, and superb ride and handling make it even sweeter.

Cons:
Rear passengers enjoy limited room. The engine becomes rather noisy at full throttle, and torque steer is considerable. Value and reliability don't quite match Asian rivals.
2014 Ford Focus ST Price:
This high-performance variant of the Focus Hatchback can be yours for $29,999. You can add options like ST racing stripes ($495) and a power moonroof ($1,200).
2014 Ford Focus ST Fuel Economy:
The official ratings for the Focus ST are 8.9/6.2L/100km (city/highway).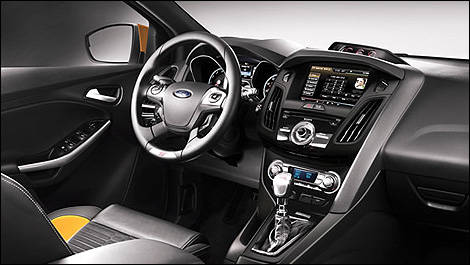 Photo: Ford
Improvements and Changes:
No significant changes.
2014 Ford Focus ST Powertrain:
Under the hood is a 2.0L inline 4-cylinder turbocharged engine that produces 252 horsepower through a 6-speed manual gearbox only. Although no all-wheel drive system is available, the Focus ST benefits from sport suspension enhancements and exclusive understeer cornering control.

Cargo Capacity:
There are 674 litres at your disposal behind the rear seats of the Focus ST. You can fold the seats to increase capacity to 1,269 litres.
Safety:
Seven airbags come standard with the 2014 Ford Focus ST, along with AdvanceTrac stability control, traction control, and high-performance brakes featuring ABS and brake assist.
Comparing the 2014 Ford Focus ST:
If you're in the market for a hot hatch like the Focus ST, consider the MAZDA SPEED3, Subaru WRX, and Volkswagen GTI/Golf R.