Pros:
The 2014 Ford Focus Electric is a very modern and stylish compact car both inside and out. Comfortable seats, as well as superb ride and handling await you. The absence of engine noise makes it even sweeter, while the 181 lb-ft of torque from the electric motor produces surprising acceleration. In some provinces, generous rebates are offered by the government to help offset the premium required by electric vehicles.
Cons:
Rear passengers enjoy limited room, while the range is very limited during winter, although most commuters drive less than 40 kilometres a day, so the Focus Electric should still prove up to the task.
2014 Ford Focus Electric Price:
The MSRP for the Focus Electric is $36,199. However, customers in Quebec, for instance, get an $8,000 rebate until December 31st.
2014 Ford Focus Electric Fuel Economy:
A big fat 0L/100km. Expect to travel up to 160 kilometres with a full charge.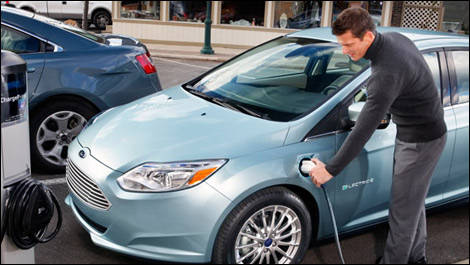 Photo: Ford
Improvements and Changes:
No significant changes.
2014 Ford Focus Electric Powertrain:
Under the hood is a 143-horsepower, permanent-magnet electric motor fed by a 23kWh lithium-ion battery and mated to a single-speed transmission. Torque vectoring control adjusts the speed between the front wheels to enhance cornering agility and reduce understeer.
Cargo Capacity:
Due to the battery, there are just 411 litres at your disposal behind the rear seats of the Focus Electric (vs. 654 litres in the regular Focus Hatchback). You can fold the seats to increase capacity to 960 litres.
Safety:
Seven airbags come standard with the 2014 Ford Focus Electric, along with AdvanceTrac stability control, traction control, ABS, and brake assist. Active park assist and a voice-activated navigation system are available.
Comparing the 2014 Ford Focus Electric:
Alternatives to the Focus Electric include the Nissan LEAF, Mitsubishi i-MiEV, and Chevrolet Volt, although the last one has an engine/generator that extends its range.