Pros
Freshened up for 2014 with a restyled grille, rounded fenders, new hood as well as new front and rear bumpers, the Civic Coupe slides into 2014 looking bold and capable. Add to that Honda's traditional reliability and handling and you get a package that is excellent.
Cons
Coupes have long doors, which makes them a bit more difficult to get in and out of in most parking spaces. Back seat usage is also a bit more complicated since you now have to be a bit more flexible to get in around seat belts while stepping to the rear, turning, folding and then collapsing into the rear seat.
Pricing
Civic Coupes start with the entry level LX trim and a manual 5-speed for $18,840 while the CVT version starts at $20,140. Next up is the EX trim with either a 5-speed manual or a CVT which starts at $20,900 for the former and $22,200 for the latter. At the top of the price ladder is the EX-L with navigation which starts at $25,600. The Si goes for $26,245.
Fuel Economy
LX model CVT equipped coupes sip fuel at the rate of 6.7/5.0/6.0 (city/highway/combined) while the 5-speed manuals consume 7.3/5.5/6.5. The EX goes through fuel at the rate of 7.3/5.5/6.5 for the 5-speed manual while the CVT comes in at 6.9/5.1/6.1. The Si rings in at 9.9/6.6/8.4.

Improvements and Changes
The Civic Coupe benefits from a makeover in 2104. The hood, grille, front fenders and headlights have been redesigned to provide a more aggressive look. Front and rear bumper facias add to the freshness and provides a bit of a sportier look while new tail light lenses help distinguish the 2014 from other years. A CVT has replaced the 5-speed automatic and brings better fuel economy and improved performance to the Coupe.
Inside
Little has changed for 2014. Controls are still well placed; seats are comfortable and can be optioned out in leather. Updates include keyless entry and push button start. A 7-inch, touch screen plays host to the latest generation of HondaLink with voice activation and optional navigation system. Available items include Honda's "Lane Watch" right side blind spot camera and a multi-angle back up camera.

Powertrain
Both the new CVT which is optional and a manual 5-speed transmission are used in the Civic Coupe. The engine is a SOHC, 1.8L in-line-four that has four valves per cylinder, i-VTEC and produces 143 horsepower and 129 lb.ft. of torque. Si models get a 2.4 liter 205 horsepower four that makes 174 lb.ft. of torque and are the only model to get a 6-speed manual.
Safety
Dual front and front mounted side impact air bags are standard. Side curtain air bags are standard as is the LATCH system of anchoring child seats. ABS, Vehicle Stability Assist and traction control are standard. ACE body construction system offers improved occupant safety in case of an accident.
Comparables
Others who look at the Civic Coupe also looked at the
Hyundai Elantra coupe
,
Kia Forte Koup
, or alternatively the Ford Focus and
Mazda3
.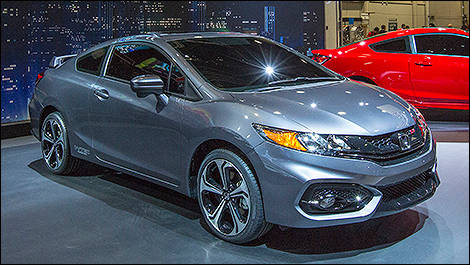 Photo: Honda
2014 Honda Civic