Pros:
The Honda Ridgeline is unique in its methods of construction, which gives it exceptional torsional rigidity that provides an excellent platform for light and medium duty off-road work. Yet it retains all the comforts and amenities of a car.
Cons:
Original styling can only be repackaged so many times before it becomes boring, so if you want fresh, Honda has promised a new Ridgeline within two years. There are some problems using the in-bed storage compartment in winter due to the cover freezing shut.
Price:
Prices for the Ridgeline start at $34,990 for the basic DX and carry on through Sport at $38,090, SE at $39,050 to wind up at Touring for $42,390.
Fuel Economy (city/highway/combined in L/100km):
13.6/9.6/11.8 for all models and trim levels.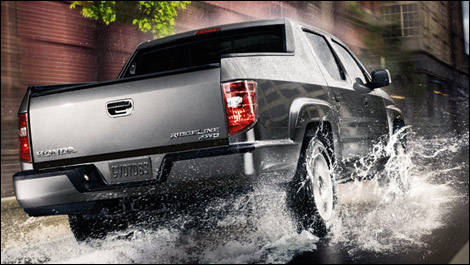 Photo: Honda
Improvements and Changes:
The Honda Ridgeline now has a "Special Edition" in the list that garners 18" wheels, Special Edition badging, leather seating surfaces, heated front seats, power driver's seat, and the popular black trim package from the Sport model. Other than that, the Ridgeline soldiers on, unchanged.
Exterior Styling:
The Honda Ridgeline is distinctive because of its single piece side with the buttress between cab and box. The pickup bed is short at 1,524mm (2,007mm if you count the tailgate) and will hold an ATV (Honda branded, of course). Tie downs and a tie-down system are all available. Up front, the grille gets the matte black finish on some models, but it is still the same style as on previous generations.
Interior:
Bucket seats are up front and a bench is in the rear, as usual. The rest of the interior is definitely Honda, and it looks to be from about two generations ago. Different trim levels add to the visual appeal over the basic model, but all seats are comfortable and all controls are within easy reach.
Cargo/towing/payload capacity:
Maximum Cargo capacity is 707 kg (1,550 lb), while the maximum trailer towing capacity is 2,745 kg (6,000 lb). There is a secure storage area in the floor of the pickup bed that has a 240.7 litre capacity.
Powertrain:
Honda utilizes a 24 valve, SOHC, 250 horsepower V6 with variable valve timing (VTEC) that produces 247 lb-ft of torque. A 5-speed automatic with grade logic is standard, as is a limited slip diff and Variable Torque Management™ 4-wheel drive system (VTM-4).
Safety:
Dual front, front seat side impact, and side curtain air bags with rollover sensor are standard. The LATCH system to anchor a child seat and 3-point seat belts in all seating positions are standard. Four-wheel disc brakes with ABS, brake assist and electronic brake force distribution, as well as tire pressure monitoring system are standard. Childproof rear door locks are standard.
Comparables:
Toyota Tacoma, GMC Canyon, Nissan Frontier and at the outer edge, Chevrolet Silverado, GMC Sierra, Ford F-150 and RAM.