Pros:
The 2014 Compass is one of the most affordable and most fuel-efficient Jeeps you can buy. This compact SUV features traditional Jeep styling, and now comes with an optional 6-speed automatic transmission.
Cons:
On the other hand, fit and finish, rear-seat comfort, and noise insulation could be significantly improved. What's more, if you're looking for generous interior room, keep shopping. And while all-wheel drive is available, don't plan to do serious off-roading with the urban-oriented Compass.
2014 Jeep Compass Price:
No fewer than 8 trim levels are available from the base Sport 4x2 at $18,995 to the top-of-the-line Limited 4x4 at $28,095.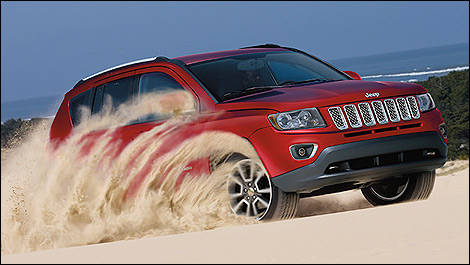 Photo: Jeep
2014 Jeep Compass Fuel Economy:
Models with the 2.0L engine achieve 6.6L/100km on the highway. Those powered by the larger 2.4L mill burn 7.0L/100km in similar settings.
Improvements and Changes:
For 2014, the Jeep Compass offers a new 6-speed automatic transmission, slightly updated styling, and an optional rearview camera.
2014 Jeep Compass Powertrain:
Fuel economy, not power, is your top priority? Stick with the base 2.0L 4-cylinder engine rated at 158 horsepower. If it's the opposite, then choose the 2.4L unit that produces 172 horsepower. Both are available with a 5-speed manual gearbox, a 6-speed automatic, or a CVT.
Cargo Capacity:
You'll find 643 litres of cargo space behind the rear seats, and 1,519 litres behind the front seats.
Safety:
The 2014 Jeep Compass comes standard with ABS, brake assist, electronic brake force distribution, stability and traction control, as well as hill-start assist.
Comparing the 2014 Jeep Compass:
Similar SUVs and CUVs you should consider range from the Jeep Patriot to the Dodge Journey. You might also be interested in a Kia Soul or Mitsubishi RVR.