Pros:
A choice selection of models, a powerful, yet frugal, 4-cylinder engine, available all-wheel drive and V8 power… just a few of the well-balanced 2014 Mercedes-Benz C-Class Coupe's many advantages. 

Cons:
However, the two-door C-Class has some things working against it, namely a complex multimedia system, the lack of a manual transmission, the unavailability of a diesel engine in Canada, and a tight-fit backseat. Moreover, the base C 250 cannot be set up with all-wheel drive.
2014 Mercedes-Benz C-Class Price:
The coupe comes in four trim levels including C 250 ($44,750), C 350 ($54,850), C 350 4MATIC ($56,350), and the high-performance C 63 AMG ($75,600).
2014 Mercedes-Benz C-Class Fuel Economy:
The most fuel-efficient of all the models, the C 250, consumes 9.6L/100km in the city and 6.2L/100 km on the highway. The C 350 and C 350 4MATIC have similar fuel ratings -- 10.7L/100km in the city and about 7.2L/100km on the highway. 

With the mighty C 63 AMG, expect 16.1 and 10.4L/100km, respectively.
Improvements and Changes:
Since the next-generation 2015 Mercedes-Benz C-Class made its world debut in Detroit in January, the 2014 model year only brings slight modifications, although it should be noted that the C 63 AMG is now sold as Edition 507 (a nod to its increased power).
Powertrain:
Normally a rear-wheel-drive car, the 2014 Mercedes-Benz C-Class Coupe can also be equipped with the 4MATIC all-wheel drive system. The C 250's 1.8L, 4-cylinder turbo engine produces 201 hp and 228 lb-ft of torque, while the 3.5L V6 delivers 302 hp and 273 lb-ft of torque in the C 350 models. Both engines are coupled with a 7-speed 7G-TRONIC PLUS transmission.
As for the C 63 AMG, a thundering 6.2L V8 packs 507 hp and 450 lb-ft of torque. This model is paired with a 7-speed SPEEDSHIFT MCT AMG transmission.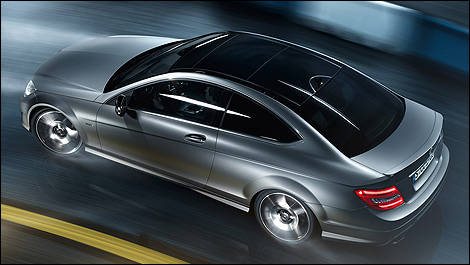 Photo: Mercedes-Benz
Cargo Capacity:
There's 450 litres of trunk space in the 2014 Mercedes-Benz C-Class Coupe.
Safety:
This model comes with seven airbags, as well as many active safety systems including stability control, acceleration skid control, and adaptive braking. Options include adaptive cruise control and a rearview camera.
Comparing the 2014 Mercedes-Benz C-Class Coupe:
The list of competitors boils down to the
Audi A5
,
BMW 4 Series
, and
Infiniti Q60
.