I like Mercedes' GL-Class. I have, in fact, always liked the GL. Although big and somewhat imposing, its face is one that is unwavering, yet friendly.
Beyond the looks lies a vehicle that is as luxurious as it is easy to drive, Regardless of the powertrain selected, the GL-Class performs with serious class, and panache.
By far though, I'd always opt for the 240-horsepower turbocharged 3.0L diesel V6. The gobs of torque (455 lb-ft to be precise) on hand are more than enough for passing and accelerating. The beauty is that heavy foot or not, it will return excellent fuel mileage for a vehicle its size.
Once aboard the
2014 Mercedes-Benz GL 350
, reasons to leave this enormous yet cozy sanctuary become few and far between as one explores the fit, the finish, and the materials. From there, becoming familiar with the controls (which could take a little while) is a reward unto itself as the countless features all quickly become indispensible. And lastly, the seats are as comfortable as any could hope.
The big GL may be exactly that, but the well-judged steering, responsive brakes and good visibility seem to shrink the truck's outward dimensions. If SUVs are bought for the false sense of security they provide, the GL will satisfy that impression -- but it's far more than just that.
A great drive, a looker, and plenty utilitarian, the 2014 Mercedes GL is tops in its segment, in my books. The only other option is an Audi Q7 TDI.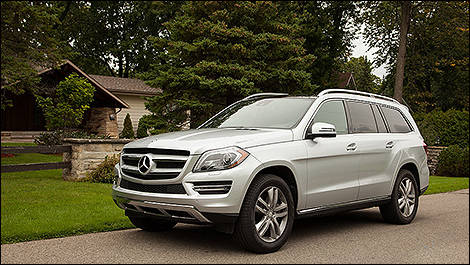 Photo: Auto123.TV