Pros:
At 12 years old, the 2014 Nissan Murano is a Japanese crossover that ages gracefully. Comfort, silence, passenger room, and technology continue to be some of its strengths. Let's not forget the venerable 3.5L V6 and lengthy list of features.
Cons:
Rear three-quarter visibility is not so great, the comfort-tuned suspension affects sporty handling, there isn't a ton of cargo space, and fuel consumption is relatively high.
2014 Nissan Murano Price:
Four trim levels make up the Murano range including S ($34,498), SV ($37,598), SL ($40,848), and Platinum ($45,598). You can tack on freight and delivery charges, but no standalone options or packages appear on the menu.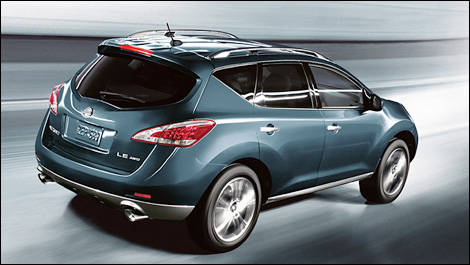 Photo: Nissan
2014 Nissan Murano Fuel Economy:
Expect to burn 11.7L/100km in the city and 8.5L/100km on the highway with this 5-passenger CUV.
Improvements and Changes:
Since the next-generation Nissan Murano is in the works, the 2014 model year sees no significant changes.
2014 Nissan Murano Powertrain:
There's just one way to go here, namely a 3.5L DOHC V6 engine that produces 260 horsepower and 240 lb-ft of torque through a continuously variable transmission (CVT). Nissan's so-called intuitive all-wheel drive system comes standard; it recognizes the difference between cruising and cornering, or dry and wet roads, and responds accordingly.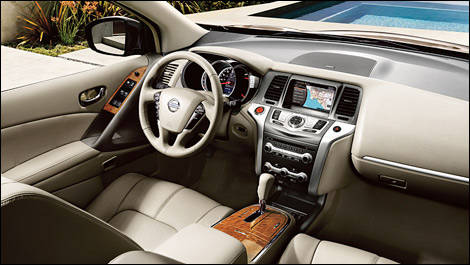 Photo: Nissan
Cargo Capacity:
With the rear seats up, the 2014 Nissan Murano's trunk can hold 895 litres of cargo. Fold them down, and you'll wind up with 1,812 litres.
Safety:
The Murano comes with six airbags, ABS brakes, brake assist, electronic brake force distribution, as well as stability and traction control. The top-of-the-line Platinum model adds blind spot monitoring and lane departure warning systems to boost safety.
Comparing the 2014 Nissan Murano:
Potential alternatives to this CUV include the Ford Edge, Hyundai Santa Fe, Kia Sorento, Subaru Tribeca, Toyota Highlander, and Volkswagen Touareg.