PROs:
Undoubtedly, the 2015 Audi Q3 as a small crossover SUV comes from a good family. In a nutshell, the Q3 offers a nicely appointed cabin interior with comfortable seating. As is the case with most German vehicles, this smaller crossover presents a refined finish and provides a very well-balanced driving experience… even though it's an entry-level product. Its size is ideal and makes for a comfortable ride for all occupants.
CONs:
Teutonic-like, it offers optional accessories which do come as standard equipment on other vehicles (and more cheaply!). The Audi Q3 is no exception to this rule. Actually, you have to go upmarket to take advantage of the rear camera, albeit very useful on this type of vehicle. Of note is the difficult access to rear storage space. Indeed, there are very few available storage spots in the cabin. You'll also discover that the Audi Q3 has somewhat limited capacities when you get off the beaten track.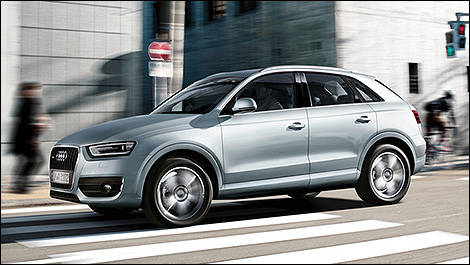 Photo: Audi
2015 Audi Q3 Price:
For 2015, Audi is marketing two versions of the Q3: the 2.0 TFSI quattro Progressiv starting at $38,300 and the 2.0 TFSI quattro Technik at $40,900.
Fuel Economy:
No matter what model you choose, the Audi Q3 has the same consumption rate, that is 11.9/8.4 L/100 km (city/highway).
Improvements and Changes:
This model is marketed for the first time in North America.
2015 Audi Q3 Powertrain:
Under the hood of the 2015 Q3 (for both models), Audi uses a turbocharged four-cylinder fuel-injected DOHC engine which develops 200 horsepower and 207 lb-ft of torque. This engine is matched to a six-speed automatic Tiptronic gearbox and full quattro transmission.
Cargo Capacity:
Both versions of the Audi provide a 473 litre storage capacity.
Safety:
When it comes to safety, just like the A3, the 2015 Audi Q3 benefits from 4-wheel ABS, assisted braking, electronic brakeforce distribution, dynamic stability control, dynamic traction control, post-collision safety system, side obstacle warning device and adaptive cruise control.
Comparing the 2015 Audi Q3:
In this compact SUV category, compare with the BMW X1 and X3, the Range Rover Evoque and the Mercedes-Benz GLA.