Pros:
The BMW i8 combines lightweight design, high-efficiency gasoline power and a new hybrid drive system to create a new sports model that turns in exceptionally low emissions and fuel consumption, alongside over 360 horsepower and a 0-100 km/h time of under 4.5 seconds. The brand's upcoming model truly pushes the envelope when it comes to efficient performance, embodying the latest and most advanced take on the brand's "efficient dynamics" mantra. With two doors and four seats, the BMW i8 should be just fine for a trip with four adults on board.
Cons:
The i8 is relatively un-proven, packs numerous all-new technologies, and will be pricey when it does go on sale. Numerous other conventional, gas-powered posh rockets can be had in the same pricing ballpark. No manual transmission will be available.
2015 BMW i8 Pricing:
At writing, sources estimated the U.S. starting price of the i8 to land around $140,000, targeting other alternative models like the Tesla Model S.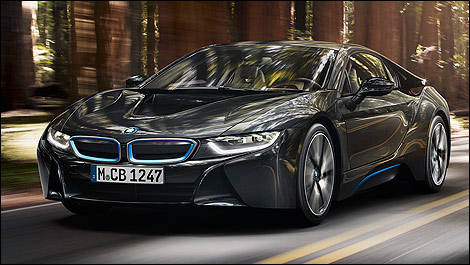 Photo: BMW
2015 BMW i8 Fuel Economy:
Thanks to its slim weight, advanced hybrid powertrain and small but potent gasoline engine, the i8 should turn in fuel consumption around 2.5L/100km.
Improvements and Changes:
The i8 is an all-new model, so improvements and changes aren't applicable.
Don't Miss:
The mass-saving tricks. The BMW i8 rides a Carbon Fiber Reinforced Plastic (CFRP) body shell, as its lightweight centerpiece, and also features thin, chemically hardened lightweight glass similar to the stuff you'll find on your iPad. Even the seats and climate control ducts are made from special materials selected for their lightweight properties, and shoppers can opt for a set of lightweight carbon-fiber wheels, too.
A convertible Spyder model is expected to join the lineup, as well.
2015 BMW i8 Powertrain:
BMW i8 drivers get a 3-cylinder turbocharged gas engine, as well as an electric motor drive system. The two work together via intelligent energy management. The mid-mounted 1.5L gasoline unit makes 231 horsepower on its own,, all of which is sent to the rear wheels by a 6-speed automatic. A 9-speed automatic is coming later, and there's no manual available.
The 131-hp electric system powers the front wheels with a range of up to 35 kilometres and a top speed of 120 km/h -- after charging fully in as little as 1.5 hours with an optional quick charger.
Total system output is rated at 362 horsepower and some 420 lb-ft of torque.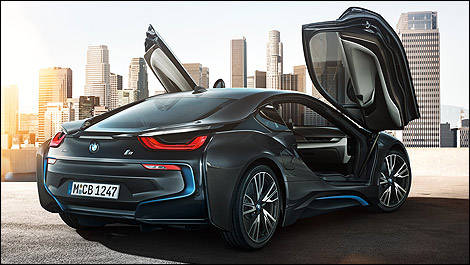 Photo: BMW
Safety:
Though details are sparse on the full list of BMW i8 safety equipment, shoppers can expect full voice command, steering-wheel mounted controls, advanced airbags, traction control, stability control, and a crash-optimized body structure as a minimum. A powerful set of laser-fired headlamps will be available, advancing beyond even current LED headlamp technology, though this system isn't likely to make it to our market because of safety regulations.
Comparables:
When it launches, the BMW i8 will compete largely with models like the Tesla Model S and the rumoured-to-be-coming Audi R8 E-Tron.