There's no doubt in our minds that Chevrolet may have once been the heartbeat of America but one vehicle stands head and shoulders above all as being the all-around favourite.
The
Chevy Silverado
has a deep-rooted history among pickup enthusiast, but it doesn't make the hearts of the majority of pickup truck buyers sing. That distinction belongs to the Ford F-150. Said Silverado may have won the coveted title of North American Truck of the Year, but more likely than not, the F-150 will outsell it in 2014. Before the final tally this year, the new F-150 will have arrived, probably win the title of the 2015 NATOTY and continue on to be the bestseller once more in 2015.
Taking on the Ford F-150 is a tall order. Even with new trucks, the competition comes up short against the Ford. Now, with a new truck on the way, all bets are off.
What's new?
Nearly everything and just about all of it is noteworthy. The previous Ford F-150's fully boxed frame was already one of the finest in the business and for 2015, Ford has taken it to the next level. The use of high-strength steel in its making has increased to 77% from 23% thus not only increasing the frame's rigidity, but dropping some weight in the process.
On the subject of pounds, the new F-150 sheds a truckload as it were as its body panels are now made of military-grade aluminum. Yeah. The weight savings reach up to 700 lbs. for this improvement alone. Tack on the frame and potential buyers are looking at trucks that tip the scale at close to 800 lbs less than before. With some returning engines on offer, expect better acceleration, shorter stopping distances, more towing capability, and better fuel mileage.
Actually, two new mills join the F-150's harem of available powertrains and they are a new 2.7L V6 EcoBoost with Auto Start-Stop and a 3.5L (replaces 3.7L) V6 engines. Output numbers are not yet out, but its list of technical specs reads like an engineer's wet dream.
Other new available aspects of the 2015 Ford F-150 are a surround-view camera, LED-trimmed headlamps, remote tailgate release with step, and the BOXLINK cargo management system.
Let's not forget that the exterior has been heavily updated, largely based on the
Ford Atlas concept
revealed at the 2013 NAIAS. Handsome be thy moniker.
Interior
The 2015 Ford F-150's interior is also new. In this department, Ford set the benchmark with materials, design, and layout a generation ago. The new F-150 moves in an even more pronounced direction with a presentation that could just as easily be fitted in an upper-trim Taurus.
Expect Ford to pack the new F-150 with all the technological goodies we've come to love and hate. A plethora of connectivity amenities will be onboard, as will inflatable seatbelts in the rear, and 110V/400W outlets capable of charging tools and battery chargers.
Powertrain
Ford set out to make the 2015 Ford F-150 everything to every potential buyer of the full-size pickup. All-out fuel economy is always a main motivation, but performance is never very far behind.
The 2.7L EcoBoost and 3.5L V6 have already been mentioned. As of yet, no fuel economy numbers have been announced. Do expect these to be segment busting or minimally highly competitive. Ford won't do it half-assed.
Making a return appearance is the turbocharged 3.5L EcoBoost V6 that punches out 365 hp at 5,000 rpm and 420 lb-ft of torque at 2,500 rpm. Along with it is the 302 cu.-in. 5.0L V8. It produces 360 hp and 380 lb-ft of torque. The only available transmission with any of these engines is Ford's 6R80 6-speed automatic.

In short
The 2015 Ford F-150 will likely be the best of the best, once more. Every 41 seconds that went by in 2013, a proud new owner of an F-150 would leave a dealer lot. Since 1948, over 33 million F Series Ford pickups have been built, signed, sealed, and delivered. It's not likely to change any time soon.
Capabilities are generally the main considerations when pickups are being shopped. As most of the Ford's competition is fairly capable (RAM 1500 and Chevrolet Silverado), the next selling points usually fall to styling.
If you'd like to see what we thought of the 2013 Ford F-150, check out or
comparison test
.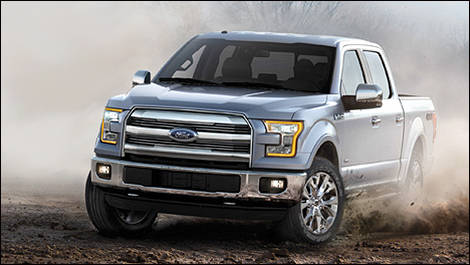 Photo: Ford