You may notice that my list includes a fair number of concept design vehicles. It's hardly surprising to find these at auto shows, yet until recently I've viewed these often weird looking contraptions as nothing more than an ego stroke for the car designers. However, manufacturers are now becoming smarter with their development money. The days of wishful thinking & make-believe are thankfully over, and concept designs are now taking on the role of public test platforms for possible future products.
Eye-candy for sure, but if you look closer, you'll notice that most of the doors actually open, they boast real tires, and my favourite test of a concept: they have proper door mirrors! After all, we live in Canada where door-mounted cameras would never have worked in the height of winter.
Toyota FT-1 concept
This vehicle was the talk of the show among my fellow journalists. It's simply drop dead gorgeous and then some! Devised by Calty Design Research in the Sony PlayStation
Gran Turismo
game environment, FT-1 stands for "Future Toyota," and the number "1" represents the ultimate. Will the FT-1 ever make production? Who knows, but we can all live in hope!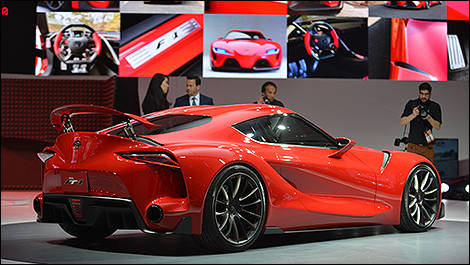 Photo: Kevin Corrigan