Pros
Micra is back in Canada, sold in 160 countries world-wide, this "new Canadian car" represents good value for money due to excellent fuel economy and low maintenance costs. Versatile usefulness is probably the best way to describe the Micra since it can do pretty much what you want it to.
Cons
As a new product even available around the world, there will most like be few buyer incentives. The presence of a 4-speed automatic transmission seems somewhat backwards for a new economical car in 2014.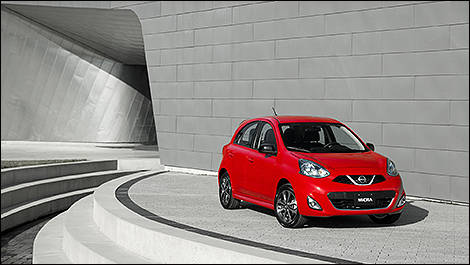 Photo: Nissan
Pricing
Micra should be aggressively priced and considered Nissan's Value Leader with three trim levels available, the S, the SV and the SR. Prices are not currently available as the car will be on sale in Canada as of April 2014, but Christian Meunier, Nissan Canada President claims it will be better than the $11,495 base price of the current GM Spark.
Fuel Economy
EnerGuide Canada has not information on the Micra, but the Note, with the same powertrain is rated at 5.4 l/100 km on the highway and 7.4 l/100 in the city so it should be somewhat better than these numbers.
Improvements and Changes
Providing value for the money is a prime goal of Nissan. That means things like Bluetooth, hands free phone system and a rear view monitor are widely available within the model line-up. Premium seat cloth is used as are visual highlights to make the Micra both pleasing and comfortable to be in. A small turning radius ensures ease of maneuverability and ease of parking. The rear seat is a 60/40 folding unit that allows for maximum use of passenger/cargo space. Rear seat ducts (exclusive to Canada) keep rear seat passengers warm in the coldest of weather. USB connectivity is available on the top line SR.
Power Train
Micra uses a DOHC, 1.6 liter four that has variable valve timing (CVTC) which acts on both cams. Power output is rated at 109 horsepower and 107 lb.ft. of torque. A 5-speed manual transmission is standard while a 4-speed automatic is optional on all Micras.
Safety
Dual front, front mounted side impact and full length side curtain are bags are standard. Traction control and Vehicle Dynamic Control are standard. Power front disc and rear drums with Brake Assist, ABS and Electronic Brake Force Distribution are standard. LATCH system of anchoring child seats along with child proof rear door locks (4-door models) is standard.
Comparables
Consumers will use the Mazda2, Scion iQ, Fiat 500, Toyota Yaris hatchback, smart fortwo coupe and the Chevrolet Spark and Sonic as comparisons.