The media were all over this vehicle at the recent 2013 L.A. Auto Show, and who could blame them. Up close, this concept vehicle is drop dead gorgeous, and if rumours are to be believed (the new Legacy will contain approximately 70% of what was revealed in L.A., and the production model will appear in the very near future -- possibly at the 2014 Chicago Auto Show), then Subaru could be embarking on a whole new direction for its Legacy.
Now, I know we've heard this before with concepts (the new
2015 WRX
isn't exactly 100% of the concept we were first shown in New York). However, take a really close look at the photographs of this car because, in my opinion, if the finished product ends up 70% of this, then Subaru is onto a real winner here!
Let's face it, the current Legacy is a fine automobile but this concept vehicle is simply one massive collection of improvements. In my opinion, it screams top-tier and, although the current model is no ugly duckling, it isn't often considered a prestige automobile. I guess we'll just have to wait to see just how many of these improvements make the final cut.
Exterior Styling
The exterior styling of the 2015 Subaru Legacy Concept is simply wow, and we've already seen some of this working its way into production (the headlamp styling is somewhat similar to those seen on the new 2015 Subaru WRX), so let's use our imagination here for a moment and try to visualize what exactly 70% will look like.
These are my thoughts: Expect the 20" rims to be replaced with perhaps 17s/18s; the door mirrors need to be larger, and the headlamps will probably end up covered for aerodynamic reasons. I've also heard tell that the concept vehicle shown was purposely built on a slightly larger scale to better demonstrate the design, so try to picture it more along the size of the current Legacy.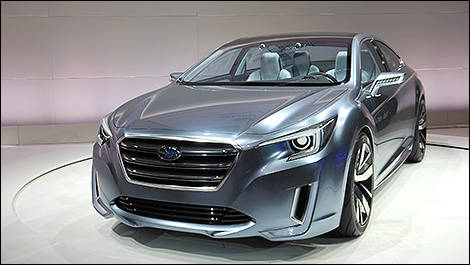 Photo: Kevin Corrigan
Interior Design
The interior of the 2015 Subaru Legacy Concept is probably the area in which most of the changes will occur. After all, in its current state, it is rather Buzz Lightyear in design. However, think 70% again: The seats will probably be the first things to go. After all, I can't see a four-seater Legacy with a huge rear tunnel working for devoted Subaru customers. No, that's way too much of a stretch for my imagination, even on a good day! Plus, Subaru just replaced its fixed-headrest design in the WRX with separate adjustable units, so I can't picture those fixed headrest seats going into the production Legacy.
The dash and centre display is obviously somewhat ultra-modern, but then we've seen similar styling already on other manufacturers' products (the odd Lincoln product comes to mind), so this may alter slightly but perhaps not as much as we'd imagine.
There were two items that immediately jumped out at me on this vehicle and I hope they make the final cut -- the first is the steering wheel that I absolutely adore. The other, an item rarely considered, is the rather stylish treatment to the foot pedals. A small thing perhaps but when you see this done right, it makes a real difference!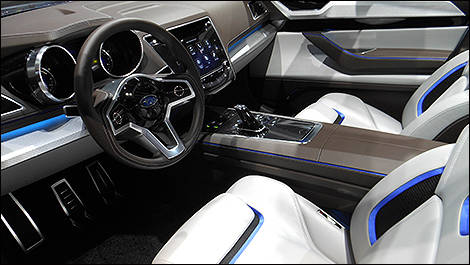 Photo: Kevin Corrigan
Drivetrain
As I've previously mentioned, the hood was sealed and I was told there was no engine beneath the cover. Of course, this being a Subaru product, we can probably take a wild shot in the dark at what might end up under there.
Cargo Capacity
Again, a sealed trunk, yet it appeared quite sizable from the outside. Of course, we need to remember that the 2015 Subaru Legacy Concept was slightly oversized in the first place.
Comparable Models
It's a little difficult to compare a concept vehicle until we've seen the finished product. However, if the final production model ends up being 70% of what was on display in L.A. (or even somewhere close to that figure!) then I have a feeling that some of those higher-end manufacturers may start having a few sleepless nights. So, well done Subaru, I'm truly impressed!
2015 Subaru Legacy