A few months back, we provided some information to help you answer the question: should you buy new or used? If you're leaning to the second option, you should take a look at the latest study just published by J.D. Power; every year the firm sizes up the most dependable pre-owned makes and models currently on the market, by looking at three-year-old vehicles across different categories.

Rankings in the study are based on the number of problems encountered by owners of three-year-old used models over the course of the past 12 months – meaning this year the focus was on 2015 model-year vehicles.
J.D. Power points out that dependability in the automotive industry overall is at its highest level ever. Another trend is that mass production vehicles continue to close the gap with luxury models in terms of dependability. The biggest complaint among respondents to the survey? The difficulty in mastering the tangle of new technologies being added to vehicles at a rapidly increasing rate.
The kings of the hill in the 2018 dependability rankings are Lexus, followed by Porsche. For the former, it's the seventh consecutive year it maintains its hold on the top spot. The biggest improvements were posted by Fiat (even though it remains in the bottom three among brands) and INFINITI (now at number 4), with Nissan and Ford also posting strong gains. Nissan, in fact, attained its highest ranking ever, as did Kia and Dodge.
Here is a detailed look at the listing: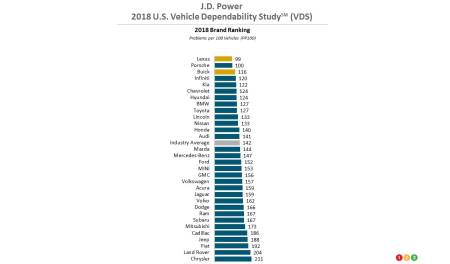 What are the most dependable vehicles in 2018? J.D. Power's top performers, by category:
Cars
- Subcompact: Kia Rio
- Luxury subcompact: Lexus CT
- Compact: Toyota Prius
- Luxury compact: Lexus ET
- Mid-size: Chevrolet Malibu
- Mid-size sport: Dodge Challenger
- Luxury mid-size: Lexus GS
- Full-size sedan: Buick LaCrosse
Trucks and SUVs
- Subcompact SUV: Hyundai Tucson
- Luxury subcompact SUV: Audi Q3
- Compact SUV: Chevrolet Equinox
- Luxury compact SUV: Mercedes-Benz GLK
- Mid-size SUV: Chevrolet Traverse
- Luxury mid-size SUV: Lexus RX
- Mid-size pickup: Toyota Tacoma
- Minivan: Honda Odyssey
- Full-size SUV: Ford Expedition
- Full-size pickup: Chevrolet Silverado 1500
- Full-size heavy-duty pickup: Ford Super Duty
For full results of the 2018 study, visit the J.D. Power website.