Liked our in-depth review of the all-new and improved 2018 Jeep Wrangler? The iconic 4x4 is on hand this week at the 2018 Consumer Electronics Show (CES) in Las Vegas to show off its generous roster of advanced technologies, and even launch a wholly new one.
Take for example the fourth-generation Uconnect system, now faster to start, displaying in high resolution and offering more practical functionalities. Or the 8.4-inch touchscreen, 4G LTE mobile services and Apple CarPlay and Android Auto compatibility.
Also unveiled was the totally new Jeep Adventure Reality application, available for the iPhone 7, 8, X and iPad Pro; it offers users an augmented reality experience that lets them explore and configure the 2018 Wrangler to see just what their version of it would look like parked in their garage or driveway.
The full range of versions, packages, cabin, roof and door configurations, not to mention wheels, colour schemes and available options can be configured on the app. It's even possible to pay a virtual visit inside the cabin of the Wrangler to get a realistic feel of the experience of sitting at the wheel.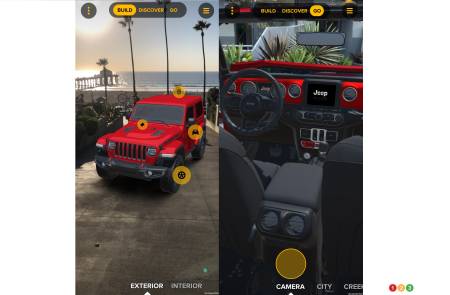 The company did announce some other new technological innovations, but without confirmation that these will be offered in Canada. Among them are the Uconnect app for smartwatches, the Family Alerts parental tracking and control system for when the young ones borrow the car, the Drive 'n Save drive recorder for saving on auto insurance, real-time Online Search for the navigation system and Amazon's Alexa assistant for Jeep.