Production of the 2019 BMW i3 is set to get underway this coming November, and it will be marked by a significant range-boosting change: the capacity of its battery pack will increase from 33 kWh to 44.2 kWh.
The bigger capacity will translate into a range of 153 miles, or 246 km. BMW had previously increased the battery range of its small electrical car in 2017, only two years ago and three years after the i3 was first introduced in 2014.
All versions of the i3 will benefit from the increased battery capacity.
In fact, the increase is due to the boost in capacity that the manufacturers of the individual cells contained within the battery were able to gain. In short, the size of the unit remains the same, with a total of 8 modules present, each containing 12 cells. Up to now, these cells could produce 94 amp hours, and this has been increased to 120. In the original 2014 i3, their capacity was 60 amp hours.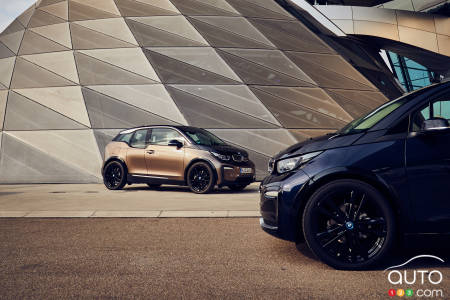 The electric motor serving the vehicle remains unchanged for 2019; it will continue to produce the equivalent of 170 hp in the standard version, or 181 hp in the higher-performance edition.
For the rest, the 2019 BMW i3 will be available in a new colour, Jucaro Beige Metallic with Frozen Gray accents, a new optional seat cover material, and new full LED headlights. Automatic high beams is another new option this year, as are WiFi connectivity and wireless charging for smartphones.
No question, the new i3 will be the most connected edition of the model to date.
BMW will be announcing pricing for the 2019 i3 later this year.