The Ford Ranger will soon be back traveling North American roads, and given the amount of enthusiasm its pending return after an 8-year absence has generated, it's expected that it will do well. It will be aided by the fact it's entering a segment in full bloom: since the start of this year, sales have climbed by 18% (last's year growth rate at the same point was just 1%).
While much of the information regarding the model is now widely known, Ford had not yet put any price tags on the trims that be offered to consumers.
Canadian pickup lovers should not have long to wait, however. Ford has just announced its U.S. pricing for the Ranger, and from it we can get a fair idea of what to expect north of the border. Stay tuned for precise details from Ford Canada soon.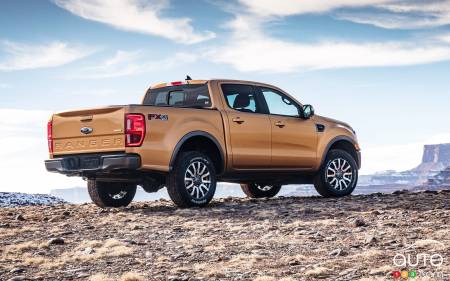 Meantime...
The 2019 Ford Ranger 2019 will go on sale at dealerships later this year, and the base model's asking price on the American market will be $25,395 USD, including transport fees. This puts it on roughly equal footing with the Toyota Tacoma, for example. In Canada, that Tacoma starts at just under $30,000 CAD (before fees). We can therefore expect a price point below that mark for the new Ranger.
By the way, that Tacoma (and presumable the future Ranger) is priced several thousand dollars higher than GM's entrants in the segment, the Chevrolet Colorado and GMC Canyon. Both of those go for between $24,000 and $25,000.
The Ranger will come in three different trim levels, the XL, the XLT and the Lariat. In the case of the latter model, we can expect to see a retail prices above the $40,000 CAD mark, especially when taken with the FX4 off-road package. This model should be a highly popular one with outdoors enthusiasts, as it will be equipped with the Terrain Management system first seen on the Raptor version of the Ford F-150.
At launch, the reborn Ranger will be available with just the one engine, a 2.3L EcoBoost 4-cylinder, twinned with a 10-speed automatic transmission.