Sonoma, CA - The Dodge brand is aware that it's swimming against the current in the present automotive environment and it even cites a study that show 97% of consumers are not interested in the Charger. Instead of trying to please a wider audience by compromising, Dodge simply decided to focus on pleasing the other 3%, the die-hard enthusiasts. This is the kind of reasoning that pleases us, and it delivers surprising results.
Mean streets
While the powertrains remain unchanged for 2020, there are aesthetic and structural changes for these, the most powerful models in the Charger lineup. For starters, physically, the car is more imposing.
We should start by specifying that the Widebody version is now standard on all Hellcat models and optional ($6,000) with Scat Pack versions. How do you recognize a Widebody model? Via the built-in wing flares that add a 8.8 cm body width and create space for the new 20-inch carbon black forged wheels mounted on wider, stickier Pirelli 305/35ZR20 tires.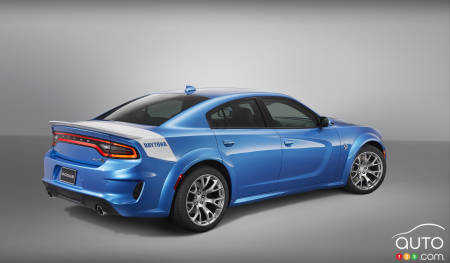 There's also a new design for the grille with wider slots for better ventilation. Then there are new side sills connecting the front and rear fascia to help amplify the overall bigger design, as well as a new rear spoiler on the Hellcat version, designed to create an aerodynamic balance, a new design for the front end and new two-part SRT Hellcat logos, available in satin chrome.
For those looking for exclusivity, Dodge commemorates the 50th anniversary of the 1969 Charger Daytona with a special 50th anniversary edition that will be sold in only 50 units for Canada. Paying tribute to its design heritage, the 50th Anniversary Charger Daytona features a unique "Daytona" trunk lid and back decal with matching spoiler.
Little change inside
Inside there's not that much new to report. All Scat Pack and Hellcat models are equipped with leather, and this is without a doubt the most spacious and fastest North American sedan on the market right now.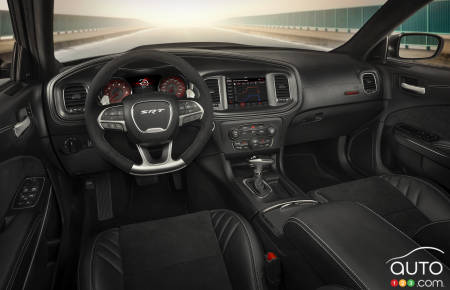 The popular UConnect system is still in place as the car's central nervous system. You have an optional harman/kardon audio system with amplifier and 19 GreenEdge speakers in Charger SRT Hellcat Widebody models, Charger Scat Pack 392 and Charger R/T and all models receive Apple CarPlay and Android Auto compatibility.
Safety
This muscle car offers up 80 available safety features, including a full-speed forward collision warning, adaptive cruise control, and a lane departure and stop alert with Lane Keeping Assist.
Those who choose one of the 50 Daytona versions (available for $4,990 more than the Hellcat model) are entitled to a few extras such as performance seats in Alcantara Black Nappa leather and heated suede with blue stitching and "Daytona" embroidered backrests. The driver and front passenger seats are 12-way power-adjustable.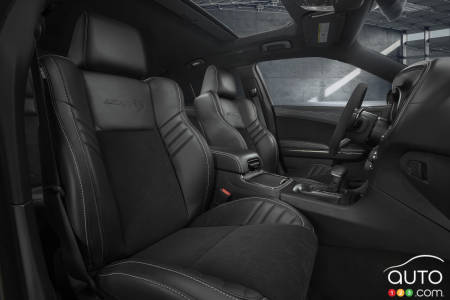 The blue accent point appears throughout the interior, including on the centre console armrest, door panels and armrest, dashboard and shifter. A Dinamica suede headliner, a carbon-fibre dashboard and black chrome interior trim combine with a flat-bottomed suede steering wheel with double blue and silver stitching. The steering wheel and floor mats are unique and available only on this Daytona model.
Dynamic change
While the engines remain unchanged, Dodge engineers have reviewed the driving dynamics of its Widebody models to take the driving experience one step further. For the first time, the Charger SRT Hellcat Widebody incorporates electric power steering for a better steering feel, making maneuverability at low speeds easier. The steering can also be calibrated via the SRT Performance page settings to optimize steering effort in various driving situations.
Beyond the body wider by 8.8 cm, the Charger SRT Hellcat Widebody also features a three-mode Bilstein adaptive damping competition suspension, springs stiffer by 32% and larger stabilizer bars (from 32 to 34 mm at the front and 19 mm to 22 mm at the rear), as well as re-tuned shocks, several race-inspired technologies and Brembo brakes - all designed to deliver even more impressive performance.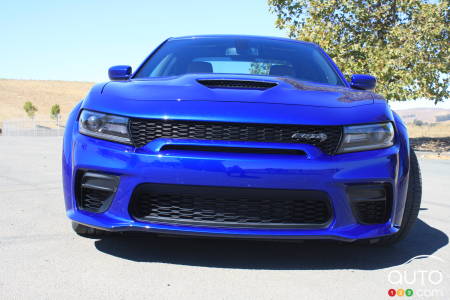 Impressive numbers… and performance
Powered once again by the supercharged 6.2L HEMI V8 engine producing 707 hp, the 2020 Dodge Charger SRT Hellcat manages a top speed of 315 km/h and retains its title as the world's most powerful and fastest production sedan.
Not to be outdone, the Daytona model with the same engine gets 10 more horses for 717 thanks to a red line pushed back to 6100 RPM.
The Scat Pack with its 6.4L engine is still at 485 hp.
It was in the Napa area in California that our test day started on the road first at the wheel of the Hellcat. For those who wonder if a larger model makes a difference, the answer is yes. But that's down to more than just the chassis. Also worthy of mention are the more massive anti-roll bars, sportier adjustable suspension, firmer springs and 15.4-inch two-piece Brembo brakes with six-piston front calipers for increased stopping power and 4-piston calipers in the back.
The winding roads were swallowed quickly and without hesitation.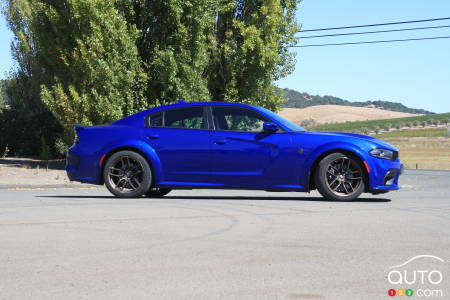 Our afternoon was spent on the Sonoma track where we took the wheel of both the Scat Pack and Hellcat versions. While the power inherent in the Scat pack model is impressive in its own right, you need a seasoned race driver to push a Hellcat anywhere near its limits. On the straight line opposite the pits, the compressor whistles its joy at high speed and fills your eardrums with a gorgeous melody in V8 major. The 0-100 km/h is done in under 4 seconds.
Although the vehicle approaches two tons on the scales, the handling improvements for 2020 are obvious. We seriously shook this car on the track and it asked us for more - a rather interesting result for a full-size 4-door sedan.
Conclusion
Dodge confirmed to us that the Scat Pack model is the most popular member of the Charger family. In Widebody version, it starts at $59,945. It will take $83,495 to climb to the Hellcat version, and $88,490 for the exclusive Daytona edition.
One thing is clear, these models are the last survivors of an endangered race, one likely en route to extinction. For those seeking that adrenaline rush, you are definitely in the right place.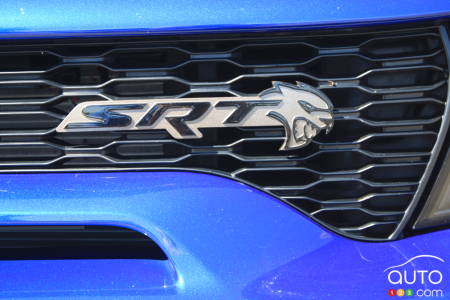 The Charger Widebody models will be available early next year at Dodge dealerships.
We like
Wide choice of models
Powerful V8 engines
Stunning performance (Hellcat)
Improving road holding
We like less
Interior without much pizzazz
Those V8 engines are greedy
The imposing weight