Stadler Motorsport's Rolf and Mark Ineichen, Marcel Matter, Adrian Amstutz and Christian Engelhart (Porsche 997 GT3 R) covered 3,250.17 kilometres over the 2014 24 Hours of Dubai to win this year's race.
"For us, the event started off with some troubles in practice, but the race was perfect. The car ran like clockwork, there isn't even a single scratch on it, commented Ineichen.
"We are really proud of this success."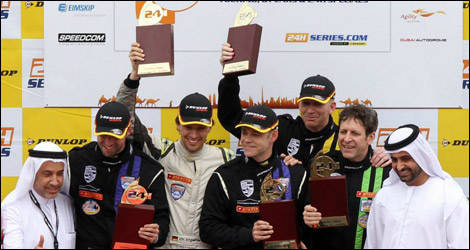 Photo: Darren and Connor Rycroft/anysportphotos.com
With the 2014 win, Porsche becomes the manufacturer with the most victories in the history of the event, although it had not won since 2010.
Münnich Motorsport's René Münnich, Rob Huff and Marc Basseng placed second in their Mercedes-Benz SLS AMG GT3, ahead of Team Abu Dhabi by Black Falcon's Khaled Al Qubaisi, Jeroen Bleekemolen, Abdulaziz Turki Al Faisal, Hubert Haupt and Adam Christodoulou, in another SLS.
Canadian Paul Dalla Lana and his Schubert teammates placed the top 10, driving a BMW Z4.
The all-women Dutch Racing Divas earned their second consecutive class win in the A3T category, with the Schubert Motorsport-run No. 90 BMW 320D.
Race results – 2014 24 Hours of Dubai
1 - Ineichen-Ineichen-Matter-Amstutz-Engelhart (Porsche 997) - Stadler - 603 giri
2 - Munnich-Basseng-Huff (Mercedes SLS) - Munnich - 600
3 - Al Qubaisi-Bleekemolen-Al Faisal-Haupt-Christodolou (Mercedes SLS) - 597
4 - Mattschull-Seefried—Ehret-Kaffer (Ferrari 458) - GT Corse - 593
5 - Nathan-Werkman-Abresch-Van't Hoff-Kogay (Corvette C6R) - V8Racing - 592
6 - Wankenhorst-Oeverhaus-Schmid-Richter-Hurtgen (BMW Z4) - Walkenhorst - 591
7 - Grogor-Al Mudhaf-Jawa-Fatien (Ferrari 458) - Dragon - 586
8 - Webb-Tutumlu-Stoviceck-Mori-Mul (Lamborghini Gallardo) - Leipert 586
9 - Barreiros-Dhillon-Maris-Scott-Ilya (Ferrari 458) - Spirit Of Race - 584
10 - Dalla Lana-Auberlen-Cameron-Werner-Hurtgen (BMW Z4) - Schubert - 583
(...)