Mercedes' new SLS AMG GT is setting the bar even higher.
The newest SLS features enhanced driving experience and offers yet more power – 591 horsepower to be precise. It comes in both coupe or roadster version.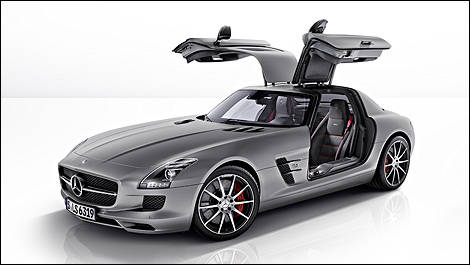 Photo: Mercedes-Benz
Darkened headlamps and taillights, red-coloured stitches, seat belts, centre console and brake callipers, sport seats with embroiled badges on the headrests, Alcantara leather door garnish – the SLS AMG GT is packed with style.
Thanks to an 8-cylinder 6.3L engine, the it can reach 0-100 km/h in just 3.7 seconds – wait another 7.5s and the speedo will read 200.
The options list is tasty, too. Amongst others, you can have carbon fibre door mirrors, carbon fibre interior, or ceramic brakes, some high-end audio system or even 10-spoke alloy wheels.
The SLS AMG GT is set to appear in German dealerships in October, with a price tag of €204,680. The roadster version should sell for €213,010.