Acura's six-car product lineup has just made history. For the very first time, the
Insurance Institute of Highway Safety (IIHS)
has given an automobile nameplate the prestigious "Top Safety Pick" rating for every vehicle in its lineup.
"TOP SAFETY PICK winners are the top performers in tough front, side, and rear crash tests, and they have electronic stability control, a crucial technology that can help drivers avoid many crashes altogether," says Institute president Adrian Lund.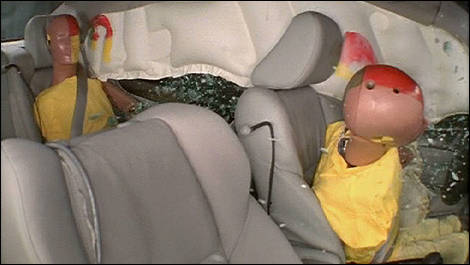 2009 Acura TL IIHS Side Impact Test
"Acura's achievement means that no matter which Acura model buyers choose, they're getting state-of-the-art protection for the most common kinds of real-world crashes."
To credit for the achievement is Acura's comprehensive approach to safety, including a standard suite of advanced airbags, stability control and an Advanced Compatibility Engineering (ACE)
body structure
on every model.
The latter feature is designed to optimize impact performance while minimizing the disadvantages experienced when two vehicles of varying sizes are involved in an accident.
Acura says that specially engineered load pathways help distribute impact forces through a greater percentage of the vehicle's structure and away from the passenger compartment.
"
Safety
is a key attribute of every Acura vehicle we design and build," said Jerry Chenkin, executive VP of Honda Canada Inc. "We are proud that Acura is the first nameplate to earn this safety distinction."
photo:
Acura