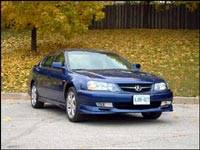 TORONTO (December 30, 2002) - The uniquely Canadian Acura 3.2TL Type S A-Spec, which made its debut at Le Salon de l'Auto de Montréal, will carry a manufacturer's suggested retail price of $43,800 - just $2,000 above the regular TL Type S price. It will arrive at Acura dealerships in Canada early Spring 2003.
The A-Spec is equipped with a host of features not found on any Acura models. With specific 17-inch alloy wheels, a full skirt kit, unique spoiler with twin red accent lights and tinted headlights, the A-Spec is designed to stand out in a diverse sports sedan market.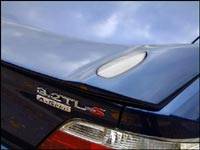 Interior treatments include two-tone (black and blue) leather seats, door trim, steering wheel and shift knob, along with titanium-style interior trim. A-Spec customers will also receive a unique A-Spec leather jacket.
The Acura lineup includes the Canadian-exclusive 1.7EL, the RSX coupe, the CL coupe, the TL sports sedan, the RL sedan, the NSX sports car and the MDX sport utility vehicle.
2003 Acura 3.2 TL